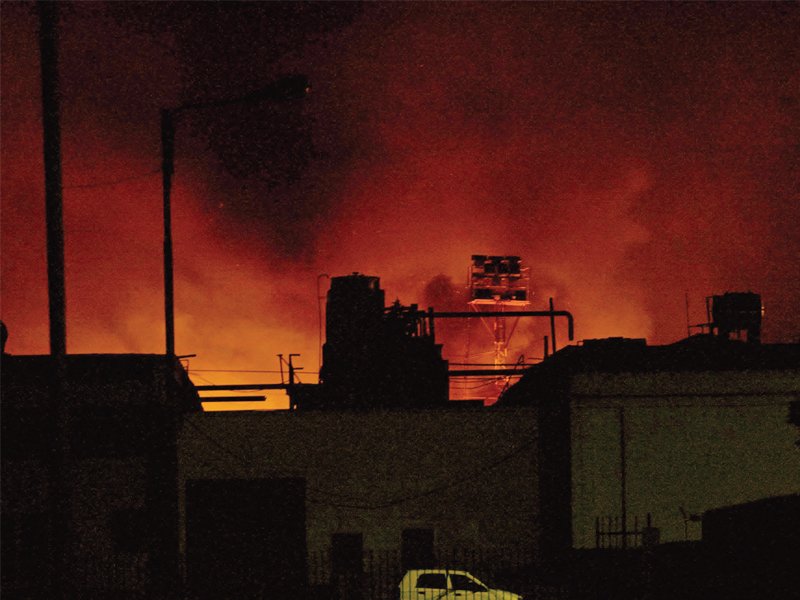 ---
KARACHI:



Heavily armed militants attacked Pakistan's busiest airport in Karachi Sunday night, killing at least a dozen people and injuring many more as all flights were suspended and the army was called in.




Officials and medics confirmed that 12 people – including seven officials of the Airport Security Force (ASF) – were killed in the assault on Jinnah International Airport, raising fears about the possibility of a prolonged siege similar to other brazen attacks on key installations in recent years.

Television images showed plume of smoke and flames billowing from the airport building with sporadic gunfire sound.

"Four to five terrorists have managed to reach the runway, they are heavily armed with ammunition and grenades and Airport Security Force commandos have cordoned off the area along with police and rangers," the Civil Aviation Authority spokesman, Abid Qaimkhani, said. "A gun battle is continuing between terrorists and forces," he added.

According to reports, two of the terrorists were shot dead by security personnel. Television reports also claimed that a third suicide bomber detonated his vest during the gunfight.

The city police chief, Ghulam Qadir Thebo, claimed that one of the attackers has been taken into custody. He further claimed that they have also recovered a 7mm rifle and a rocket-propelled grenade.

Around 11:23pm the attackers fought their way into the airport from the Ispahani Hangar, the Engineering Section of the Pakistan International Airlines near the Old Terminal, which is located inside the Civil Aviation Authority (CAA) headquarters. Normally, it is used by VVIPs, including the prime minister and president.

A paramilitary soldier engaged in the operation said the militants gunned down the ASF security before entering.

Army spokesman Colonel Nayer said that troops had been deployed from the Malir cantonment near the airport. "They have reached the scene," he said. Trucks carrying army commandos, paramilitary rangers and police were seen entering the airport.

Broken glass and used gun magazines littered the engineering section where the first exchange of gunfire had taken place as smoke from grenade attacks began to die down.

Eye-witness Sarmad Hussain, a PIA employee, told AFP: "I heard fierce firing and then saw the terrorists firing

at security forces. I don't know a lot more than that. Thank God I am alive, this is very scary."

The joint director of the Jinnah Post Graduate Medical Complex Hospital, Seemi Jamali, confirmed that they have received nine bodies. The victims have been identified as seven ASF officials, two Rangers personnel, one policeman and one PIA steward and a CAA employee.

A spokesman for PIA, Mashud Tajwar added that two domestic flights bound for Karachi had been diverted to nearby airports.

The target of the attackers was immediately unclear. While officials were tightlipped, there were reports that some aircraft and the jet fuel storage tanks of the Pakistan State Oil and other companies were damaged. Sources added that reportedly two Fokker planes and a fuel pumping station were damaged as well.

The Inter-Services Public Relations (ISPR) said that all passengers have been safely evacuated.

Visibly scared and shaken employees came out of the airport with raised hands. "It happened all of a sudden. There was gunfire from every direction," a terrified employee told a TV channel.

Intelligence agencies have warned against a possible attack on Karachi airport several times since 2008. It is one reason the ASF had beefed up security around the main Jinnah Terminal a couple of years back with increased patrolling and equipping the guards with high-tech weapons.

All incoming flights were diverted to other cities and officials said regular flight schedule will remain suspended until the area is cleared of terrorists.

A Muttahida Qaumi Movement (MQM) spokesperson confirmed that a senior leader of the party, Dr Farooq Sattar, was onboard an Emirates Airlines flight that was called back shortly after takeoff.

However, he added that Dr Sattar was safe denying reports that the flight was hijacked by the terrorists.

Published in The Express Tribune, June 9th, 2014.

 
COMMENTS (1)
Comments are moderated and generally will be posted if they are on-topic and not abusive.
For more information, please see our Comments FAQ