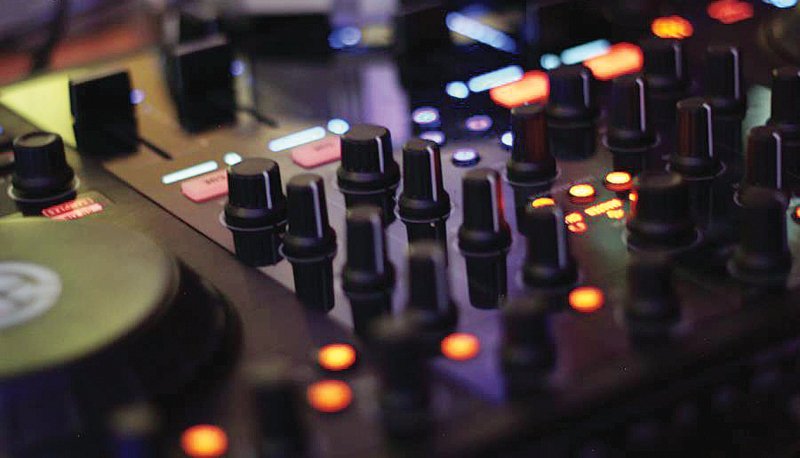 ---
As sweaty bodies sway to pulsating beats on the smoke-filled dance floor, few notice the guy seated behind the laptop screen with his elaborate turntable, mixer and speakers, who is the real life of the party. The logic is simple — bad music can ruin a good evening. Hence, the key to keep the party grooving into the wee hours of the morning is to hire a good DJ.

The culture of elaborate mehndis with their choreographed dance sequences that gained popularity in the early 2000s consequently created demand for well-synchronised music and a new market for DJs in Pakistan. Lavish budgets are now set aside to procure a professional DJ who will sync every beat with the dance move and keep the party going. Although not as common as mehndis, these commercial DJs also earn a steady income from private parties, fashion shows, product launches, raves and political rallies in some cases.





DJ Asif Butt, one of the most popular names in the business. PHOTO COURTESY: DJ BUTT




Alternatively, the wave of globalisation following the Musharraf regime exposed the younger urban generation to a whole new world of music and led to a new breed of DJs who started experimenting with various kinds of electronic dance music. Even though the political instability and wave of extremism in the country over the past few years has not been kind to most forms of art and culture in the country, these handful of DJs are determined to create and sustain a market for this art form.

"There was a time when everyone loved rock 'n' roll bands and wanted to be a rockstar," says Ali Safina, a radio host, DJ and one of the co-founders of Pakistan DJ Network, a platform for local DJs to collaborate, create and share music. "Then came hip-hop music and everyone wanted to look like a hip-hop artist. Now is the age of DJs and everyone wants to be one."

Hira Tareen, a DJ and the other half of the duo behind the network, explains that each DJ has a different range, style and variety of music. Family event or shaadi DJs are those who have a great collection and live mixing skills in Bollywood music. The Commercial Club Top 40 DJ is someone who promotes the newest in popular music. The Turn Table or Serato DJs are those who like to showcase their live mixing skills and unique taste in music by providing smooth transitions from one song to another and creating an unforgettable experience for the crowd with their collection. Lastly, The Ableton or Electronic Music Producer DJ is someone who likes to highlight their own music production live, yet may or may not be able to provide a flawless shift from one track to the other since their priority is creating the sound rather than mixing the transitions. "I don't expect everyone in Pakistan to know exactly what the art of DJing is all about because there hasn't been enough of it on a mainstream level," says Tareen. "Every kind of DJ has their own standing in their immediate reference group. For example, most people have experienced DJs playing at mehndis or wedding events only."





DJ Hira Tareen has also played at several gigs in the United States. PHOTO BY: HUMZA SYED PHOTOGRAPHY




But according to Danyal Achria, who has been in the industry since 2000 and has played at many prestigious Canadian clubs, including The Guvernment, one of the most well-known nightclubs in the world, things were moving in the right direction in the music business in Pakistan until 2008. "During Musharraf's time [the scene] was [thriving] but after 2008, everything became a problem — from police to agencies to [the wrong] people drinking and doing drugs. There are hardly two or three people now who can throw raves because they have the right connections and the right political links," he says. Compared to India, where there are plenty of platforms for such artists to shine, things are much more difficult at home.




Safina adds that the Pakistan music scene still has a long way to go before underground DJs can make a full time career out of it and earn a reasonable income. "I don't think that it is possible to making a living being a DJ at this point in time. [On the other hand] people like DJ Butt are in a different category, because they have [very expensive] equipment [as a resource]."

But even the 36-year-old DJ Asif Butt, who rose to national fame after his affiliation with the political party Pakistan Tehreek-e-Insaf (PTI), started from humble beginnings. Before getting into the music business, Butt used to sell coffee at a small shop in Model Town, Lahore. It was at the suggestion of a few friends and customers that he brought his own imported sound system, played at a few weddings and the rest was history.





DJ Danyal Achria has been in the industry since 2000. PHOTO BY: HUMZA SYED PHOTOGRAPHY




In 2011, Butt was introduced to PTI by a friend, a few days before the party's sit-in in Peshawar and there has been no looking back since. "Although the work is difficult, by the grace of Allah, I am able to do the job," he says. "Both my ears have to be very alert. With one ear I pay attention to the speech, while with the other ear I listen to the music so that I am ready to play the type of music required." And his well-timed music has provided the perfect punctuations for party chairman Imran Khan's speeches. "When Khan sahib says something sad, the music that follows has to be sad. When he makes a powerful point, I try to play something upbeat as it increases the josh in the crowd. People start moving with more energy and flags start waving," he elaborates. "It also gives the person giving the speech a break to cough, take a breather, speak to those around him or have a sip of water."

Butt believes that one of his greatest strengths is the ability to gauge a person's taste in music. And although the two have never discussed music at length, he claims he has a fair idea of the PTI chairman's favourite. "Even though Khan sahib has never told me,I think his favorite song is 'Dil naik ho, niyat saaf' (your heart clean, your intentions pure)." He emphasises that knowing the audience is one of the most important aspects of a DJ's job. "I tell my students as well that a DJ's job is to provide music according to the atmosphere. If it is a rave, you have to play trance. At a dance party, you want people to dance with the pressure of the music."





DJ Asif Butt at one of his events. PHOTO COURTESY: DJ BUTT




However, for experimental DJs such as Tareen, the passion for introducing lesser-known music is the primary driving force. "While the easy formula to pleasing the crowd is to play some known tracks or what they call 'bangers' (tracks that are based on a formula proven to work with any crowd at any given time), it's extremely unsatisfying to base your entire set on just that," she says. "I don't think I'd ever become a DJ if I didn't get a kick out of introducing new things to people that they haven't heard before." To ensure the success of any music event, she points out that it is critical to know the objective of the event, the kind of experience one wants to offer their guests and their taste and knowledge of music along with the budget for a DJ. "A lot of times promoters or event planners bring their very own personal favourite DJ to a party they are throwing but the guests know nothing about that person or the kind of music they play," she says. "This puts the promoter and DJ in an awkward situation when the DJ is playing a track by Stimming yet gets requests from the crowd to play 'Jalaibee Bai'."





An elaborate setup at one of DJ Shaano's events. PHOTO COURTESY: DJ SHAANO




A difference in musical tastes is not the only challenge when catering to huge crowds at parties. Encounters with the law enforcement are also routine. According to Usman Ali, the managing director for DJ Shaano, one of the biggest names in the business in Lahore, the partying scene has changed drastically over the last few years and the work doesn't carry the same thrill anymore. "Many shareef clients are blackmailed by law-enforcement officials into paying hefty sums, which they happily pay to spare themselves from harassment," he says. "We are just service providers who play music, but we do feel a client's pain when these things happen and it affects our business."

The lack of consumer awareness isn't limited to the law. "One of the biggest drawbacks of working in this field in Pakistan is that customers don't appreciate quality. They will ask to pay the same rent for high quality equipment as they would for a low quality sound system from China," says Ali. Since most people know little about music, they are far more preoccupied with the size of the sound system rather than its quality.

Ali claims that playing at parties open to the public is also a challenge. "Some people who've never been to a party can't handle the atmosphere. Under influence, these guys will talk down to the DJ [like a servant], commanding him to play songs, not realising that the DJ is an accomplished individual." But he feels that the best way to handle such situations is to maintain your calm.





DJ Hassan Malik at an event in Lahore. PHOTOS COURTESY: PAKISTAN DJ NETWORK




Achria also feels that the association of drugs with music events is a hindrance to DJs. "There is a social stigma associated with raves and the electronic music culture in Pakistan due to the perception that one must be on drugs to enjoy the music. Even though the notion has changed abroad, the stereotypes are still quite strong in Pakistan."

However, one thing that is common between Pakistan and the global market is the relatively limited number of women in the industry. Tareen, who is sometimes labelled a 'female DJ' for marketing purposes by event managers, argues that her gender is irrelevant to her work. "I would rather be known as a great DJ rather than being known just as a female DJ," she says. "Sure, it's rare to see female DJs in Pakistan, but I know a handful of girls who have great taste in music here and if they perhaps had the same exposure or interests as I did, they too could become a DJ." To counter this vacuum, she plans to conduct workshops for women who want to pursue this field.




Just like their style in music, every DJ's motivation for being in the business is equally diverse. For some commercial DJs, the money to be made at events is worth the trouble. DJ Rohit who has played in several cities including Karachi, Hyderabad, Sukkur and Larkana for the past eight years claims that he makes nearly Rs50,ooo at every party. Others like Acharya do it purely out of passion. ""I feel rap and hip-hop is about the same stuff — money and women. Pop music is all about love and relationships," he says. "What I love about electronic music is that it is about the music itself — the bassline, the kick, the drop, the high amp and the percussion." DJ Oscar Jazz, on the other hand, finds it most rewarding when the crowd is happy. "I feel good about my work when my audience is on the floor and moving to the music. When people are dancing and happy, I know I have done my job right."

Noman Ansari is a freelance writer. He tweets @Pugnate

Published in The Express Tribune, Sunday Magazine, June 8th, 2014.