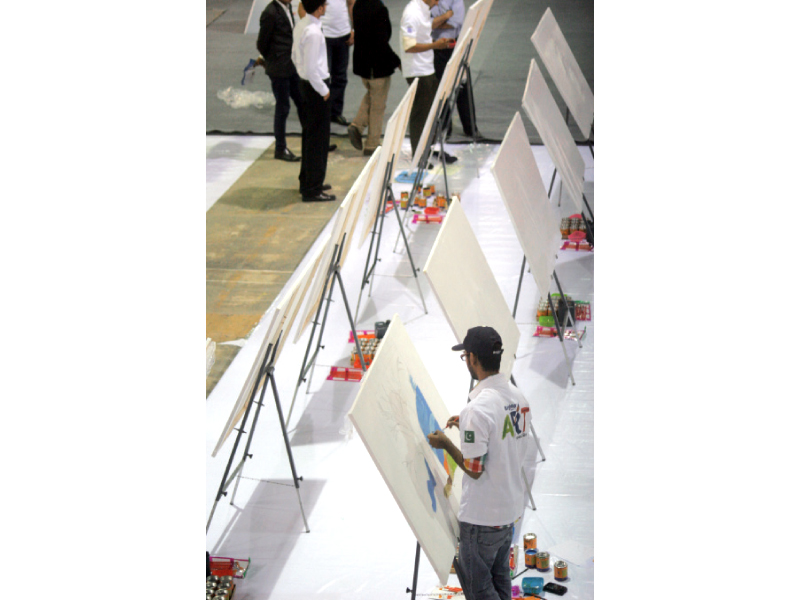 ---
KARACHI:



The Karachi Expo Centre played host to 1,200 students from different universities and colleges, where they not only discovered various career and education avenues but also displayed creativity and passion at the recreational platform provided by the Express Media Group at the Education Expo on Saturday.




The event, which had previously taken place in Islamabad, was hosted for the first time in Karachi. There were stalls of various universities — foreign and local — and companies giving career-counselling sessions, along with consulting agencies and book distributors, such as Liberty Books and the Oxford University Press (OUP). There were various competitions and recreational activities as well, the results of which will be announced at 6:30pm on Sunday.

Chief guest Prof Attaur Rahman, the former Higher Education Commission chairperson, inaugurated the event and said that such initiatives are needed in the field of education.

OUP managing director Ameena Saiyid was a guest speaker at the opening and said a few words on the importance of education. The event kicked off with a declamation contest, followed by a drama competition and a musical session.

The painting competition, organised by Brighto, started at 12pm and participants were given three hours to paint with oil paints. "My priority was to participate in the competition, winning or losing does not change anything," said 21-year-old Naveedur Rehman from the Institute of Cost and Management Accountants of Pakistan. "It is an amazing feeling to be able to display my passion here."

Another student, Shahbaz Ghouri, from Hamdard University expressed his excitement while painting a picture of Mowgli from The Jungle Book. "I love art and even though I am a sketcher and it is my first time working with a canvas and paints, it feels great." He added that he is also going to participate in the fashion show that will take place on Sunday.

Innovators and inventors

A group of four students from the Usman Institute of Technology displayed their final project at one of the stalls in the hall. They challenged the operation of K-Electric by coming up with a system in which even if a substation developed a fault, the circuit would not break and electricity supply would go uninterrupted.

"We want to save electricity and this seemed like a promising platform to display our idea and attract possible sponsors," said Daniyal, one of the students behind the project.

Another group of students from the same university came up with an application that could control the electricity of a connected circuit. "It has a fire alarm and lights and temperature checking commands," said one of the students, Rameez.

"This application can go places as one can use this in a lot of places, including building management systems," said Ali, standing besides Rameez. "We all had to work really hard on this and I am thankful to the Express Media Group for giving us the opportunity to display our work here."

A group of two people from Hamdard University, Muhammad Hassan and Naveedur Rehman, came up with a project in which one can control the supply of electricity to appliances by just calling on their landline. "Our idea is user-friendly since not everybody can afford an internet connection and all the commands are just a phone call away."

Published in The Express Tribune, May 25th, 2014.