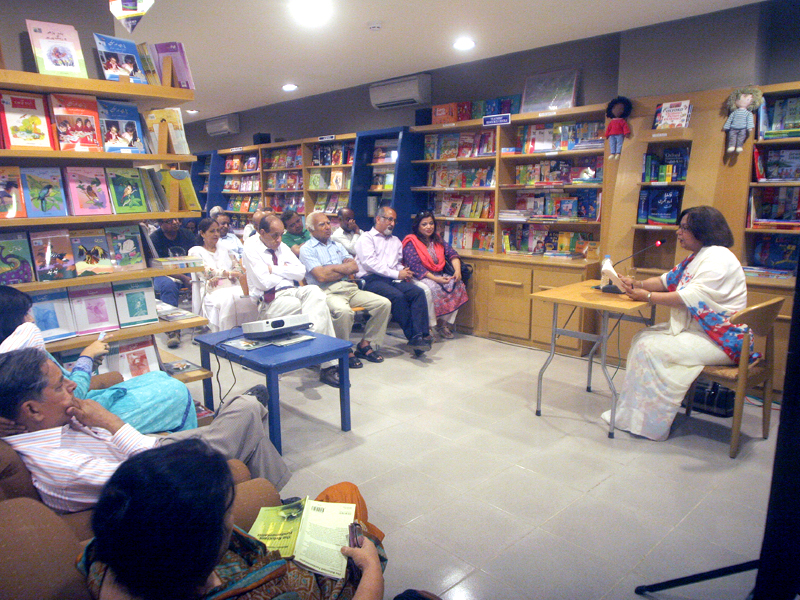 ---
KARACHI:



Parveen Shakir, who was awarded one of Pakistan's highest honours, the Pride of Performance, for her outstanding contribution to literature was a poet who portrayed the romantic landscape of a young girl's feelings through her poetry. "She was not a rebel at heart, but one who narrated everything as she experienced it," said Fatema Hassan at Intikaab-i-Kalam. Hasan was Shakir's contemporary and dear friend.




Intikaab-i-Kalam was a discussion hosted in honour of Shakir at Oxford University Press bookstore located at Khalid bin Waleed road, Wednesday evening.

The dominant themes in Shakir's poetry are love, devotion and betrayal. However, she wasn't just a romantic poet; she was well aware of the social and political issues prevalent in society and had written a few poems leaning towards the political set-up. Her first volume of poetry, Khushbu (Fragrance), was published in 1977.

Shakir, once a resident of Rizvia society and student of English Literature at Karachi University, belonged to a middle-class family. She shook prevalent norms with her poetry. "How can one forget the time when she and I were hurled and pointed fingers at for coming out of our homes to be at a mushaira!" said Hassan.

"The society at that time was unforgiving and uncompromising and, because of that, Shakir had to put a lot at stake," Hassan added.

The double standards embedded in society left deep imprints on Shakir's mindset, which had the capacity to spark wit through dialogue. Reminiscing the old days, Hassan said that Shakir's years in poetry dictated not only her feelings as a young girl, but, in fact, she also delved into serious problems that she encountered as a working woman in a bureaucratic society.


"Parveen was in shackles of traditionalism; she led a life full of pain and agony," said Fatema Hassan

There was a difference in their upbringing. Hassan, who was brought up in East Pakistan, had fewer limitations; going out and meeting people wasn't considered a taboo. In comparison, Shakir came from an orthodox family in West Pakistan, who looked down upon women who went out or made friends. "Parveen was in shackles of traditionalism; she led a life full of pain and agony," said Hassan.




It's evident in Shakir's poetry that she was submissive and easily surrendered. Hassan responded to that and explained that Shakir was highly intellectual and one of the wittiest people she knew, however the only thing she did was surrender herself completely in love. "Ishq, toot ker ishq kiya. Zaat ki manafi ker di [She truly loved, to an extent that she lost her self in it]," said Hassan.

Shakir died in a tragic road accident in Islamabad in 1994, leaving behind an unforgettable legacy.




Parveen Shakir's Famous Poems




•  Meri Dua teray Rakhsh-e-Saba Kharam key Naam

•  Raqs (dance)

•  Navishta (a piece of writing)

•  Murad (desire fulfilled)

•  Kutba (tombstone)

Published in The Express Tribune, May 24th, 2014.

Like Life & Style on Facebook, follow @ETLifeandStyle on Twitter for the latest in fashion, gossip and entertainment.