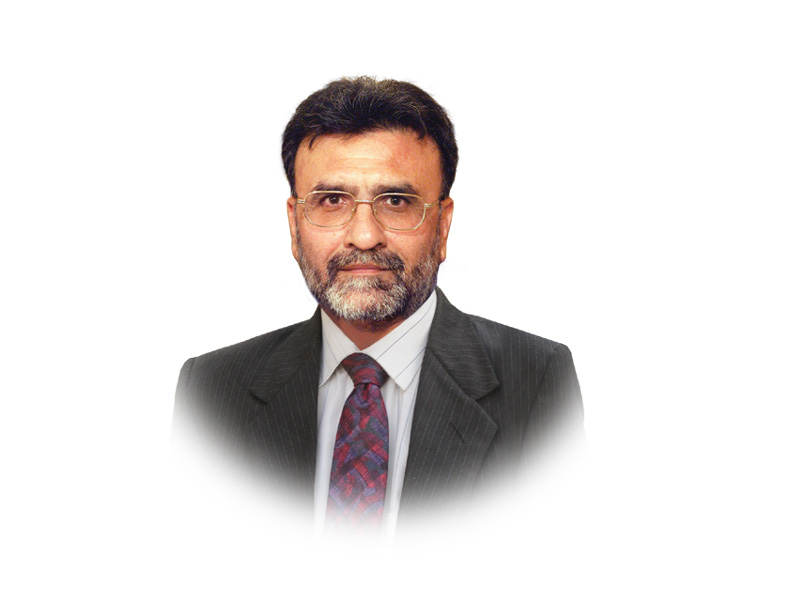 ---
Allow me to confess with a big heart: the manipulative media managers of Nawaz Sharif took us journalists and the PML-N members for a ride again. With the advent of Thursday morning, they successfully maneuvered most 24/7 channels to claim with confidence that the prime minister would deliver a comprehensive policy statement during Thursday's session of the National Assembly. Both the press gallery and the treasury benches were unusually packed after this news was drummed into their senses.

Of course, Nawaz Sharif made it to the house, but it was Ishaq Dar who took the floor. The impassioned finance minister spent more than 70 minutes in regaling us with the narrative that the third Nawaz government had remained resolute on turning around the economy since taking the reins of government a year ago. He also had a huge reservoir of figures to substantiate his claim. As an economic illiterate, however, I have no capacity to challenge him. That is a job best left to the specialists.

Ishaq Dar is quite familiar to me since 1995. He is polite and humble and seldom sounds acerbic to his critics and political opponents. Of late, however, he appears to have turned bitter and even aggressive. Speaking in the National Assembly, he often dubs his critics "pseudo economists." Such remarks are run of the mill in a highly polarised environment.

But Dar has also begun claiming that most "pseudo economists" who seriously question the economic and fiscal management by him these days are "mere job seekers." They expected that for not being an academically trained and honed economist, Ishaq Dar might desperately want to seek their wisdom for pushing Pakistan's economy on a stable looking path. Since he never bothered to seek their wisdom, "the pseudo economists" have now begun to write for the op-ed pages of popular English newspapers and participate in TV talk shows for spinning the stories of doom and gloom regarding the country's economy. Although betraying his reputation of being polite and civilised while taking on "pseudo economists," Dar would still not target a particular individual or any definite group of recognised economists.

Thursday appeared different because, for the first time, Dar kept his caustic tirade specifically focused on a specific individual. He did not name his target, but was almost loud and clear in exclusively lynching Asad Umar, the PTI legislator from Islamabad.

Umar had been relishing the fame of being a youthful corporate wizard before deciding to switch to full time politics. Most TV anchors love to have him on their shows for he is soft and presentable with inherent brilliance for demolishing the feel-good stories that Dar keeps vending with the passion of a success-obsessed person.

Dar was surely not very subtle while claiming that Umar had cunningly spread "the lie" that his vision and diligence was exclusively responsible for the rise and rise of a fast growing multinational. "This person," Dar rather claimed almost audaciously, "was solely responsible for pushing the group he worked for in dire financial straits."

Perhaps he is telling a true story. Yet he sounded slightly odd, absolutely vicious and personal when he went to the extent of claiming that while "climbing the corporate world's ladders", Asad Umar would often seek the support of a son of our finance minister. Both Dar's son and Umar had been to the elitist Aitcheson College of Lahore. To make it sound more credible, Dar named the college.

To be fair to Nawaz Sharif, even he felt visibly upset when his finance minister switched to settle some personal scores with Asad Umar. The prime minister looked at Dar sternly in a bid to stop him. Yet the finance minister could not help admitting that he felt deeply hurt for some negative stories that Asad Umar had allegedly been spreading regarding the real or alleged doings of his son.

I am more interested in finding out why Nawaz Sharif is unwilling to speak his mind when sinister whispers continue building so many gloomy stories regarding the fate of his government that still needs one full week to complete its first year in office.

Some ministers that I approached to seek answers were visibly confused and clueless. Although at least one of them dared suggesting, "Nawaz Sharif will not keep quiet for long" . But for telling his side of the story, "somewhat firmly," he may decide to address a public gathering, most probably in Lahore. May 28, the day when Pakistan opted to get out of the nuclear closet in response to India making the first move, could still be a date we should keep in mind in this context.

Published in The Express Tribune, May 16th, 2014.
COMMENTS (1)
Comments are moderated and generally will be posted if they are on-topic and not abusive.
For more information, please see our Comments FAQ