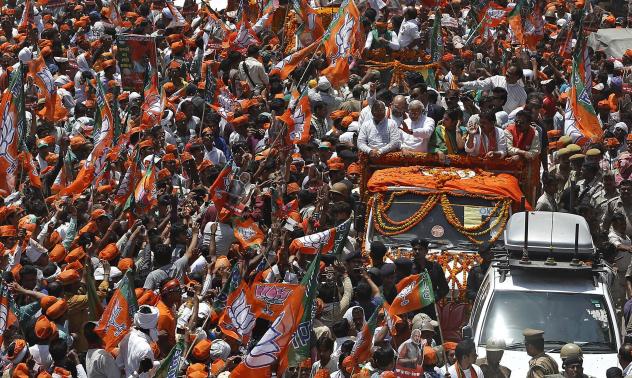 ---
NEW DELHI:



The Bharatiya Janata Party (BJP) looks set to sweep a parliamentary majority after exit polls showed it winning twice as many seats as the ruling Congress party.




At the end of a nine-phase general election, that spanned over a month, pollsters uniformly gave the BJP-led alliance well above the halfway mark of 272 seats out of 543 in the lower house of the Indian parliament - the Lok Sabha.

By Monday evening, Modi seemed to have a clear edge over all other contenders for prime minister with voter turnout at a record high of 66.38%.

The BJP-led alliance is forecast to win 270-282 seats, according to a poll conducted by research group CSDS for the CNN-IBN television network.

Surprisingly, many exit polls saw the Congress staying below the three digit mark. In the last 2009 elections, the Congress had improved its tally by securing 206 seats compared to 145 seats in 2004.

Three exit polls projected the BJP-led alliance securing between 272 and 289 seats in the 545-member Lok Sabha, where two members are nominated by the government.

The India Today-CICERO exit poll and the ABP-Nielsen survey predicted 272 or more seats for the NDA.

While the India Today-CICERO gave the Congress-led United Progressive Alliance (UPA) 115 seats and other parties 156, the ABP-Nielsen tally for the Congress grouping was a mediocre 110 seats.

Projections by India TV-CVoter put the NDA on top with 289 seats and the UPA far behind with 101seats. Other groups were projected to secure 148 seats and the Aam Aadmi Party (AAP) five seats nationally.

In what appears to be a major upset - India's oldest political grouping Congress, could end up with its lowest tally ever in the Lok Sabha.

As projections started rolling in, BJP leaders insisted that the party was on course to sweep the Indian parliament.

Many pollster results backed forecasts before voting started on 7 April that the BJP would secure a comfortable majority in the parliament and that the ruling Congress party might have to face a resounding defeat.

Published in The Express Tribune, May 13th, 2014.
COMMENTS (11)
Comments are moderated and generally will be posted if they are on-topic and not abusive.
For more information, please see our Comments FAQ