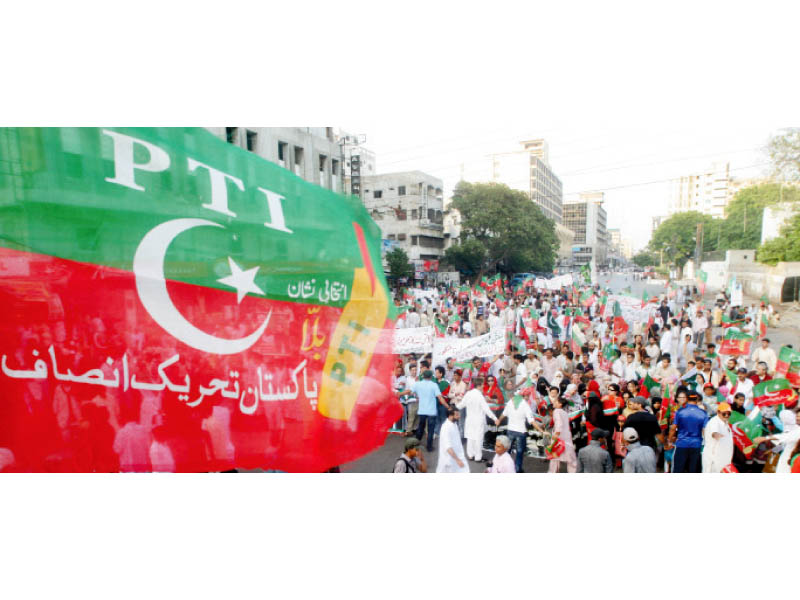 ---
KARACHI:



Hundreds of workers, activists and supporters of Pakistan Tehreek-e-Insaf (JI) and the Jamaat-e-Islami (JI) convened outside the head office of the provincial election commission to protest the alleged rigging in the general elections, exactly one year ago.




The protesters, convened in separate camps organised by the two parties, lambasted the government for the frequent incidents of target killings, extortion, deteriorating law and order and corruption, blaming the election commission for having stolen their mandate.

Encouraged by leaders of their respective parties, the protesters raised slogans against the commission, claiming that decisions made in foreign countries were being inflicted on them.

The leaders demanded the government to initiate an inquiry against the employees of the election commission who were involved in rigging during the elections.

"We have gathered here to peacefully record our protest against the blatant rigging that occurred exactly one year ago," said Jamat-e-Islami's Karachi Ameer Hafiz Naeemur Rehman.

On the other side, PTI's provincial leaders, including Sardar Nadir Akmal, Khurram Sher Zaman and Syed Hafizuddin, said that the workers of one party had held Karachi hostage on the day of the general elections. They contended that fresh elections would disclose the truth, if they were conducted transparently.

"We do not want to derail democracy, which is why we organised a peaceful protest to show our strength in Karachi," said Hafizuddin.

Leaders of the JI, including Muhammad Hussain Mehanti, Younus Barai and Nasarullah Shaji also addressed the gathering, criticising the election commission and the ruling party in Karachi.

CM disagrees

The Pakistan Peoples Party's leadership has strongly condemned the Pakistan Tehreek-i-Insaaf's (PTI) and Pakistan Awami Tehreek's (PAT) protests, terming them a renewed conspiracy to derail the democratic system.

"Although we admit that rigging did occur in some parts of the country, especially in Punjab, we want the elected government to continue for the sake of democracy," said Sindh's Chief Minister Qaim Ali Shah.

He was addressing the media at the farm house of Sindh Information Minister Sharjeel Memon, who celebrated the first anniversary of his election from a constituency in Hyderabad, on Sunday. "Imran Khan will not succeed in causing any harm to democracy," he predicted.

The information minister warned the PTI and PAT that the PPP will come out as the biggest obstacle in their way if they proceeded with their plan to subvert democracy. "Khan is shouting about election rigging because he failed to become the prime minister," he claimed.

Speaking about the PAT's chief, Tahirul Qadri, Memon said Qadri always came to Pakistan on a specific agenda. "Once again, he is working on the directions of foreign masters on a certain agenda."

Memon went on to complain that the federal government was subjecting Sindh to prolonged hours of power outages. "People of Sindh are being punished for not voting for the Pakistan Muslim League - Nawaz in the elections."

Published in The Express Tribune, May 12th, 2014.