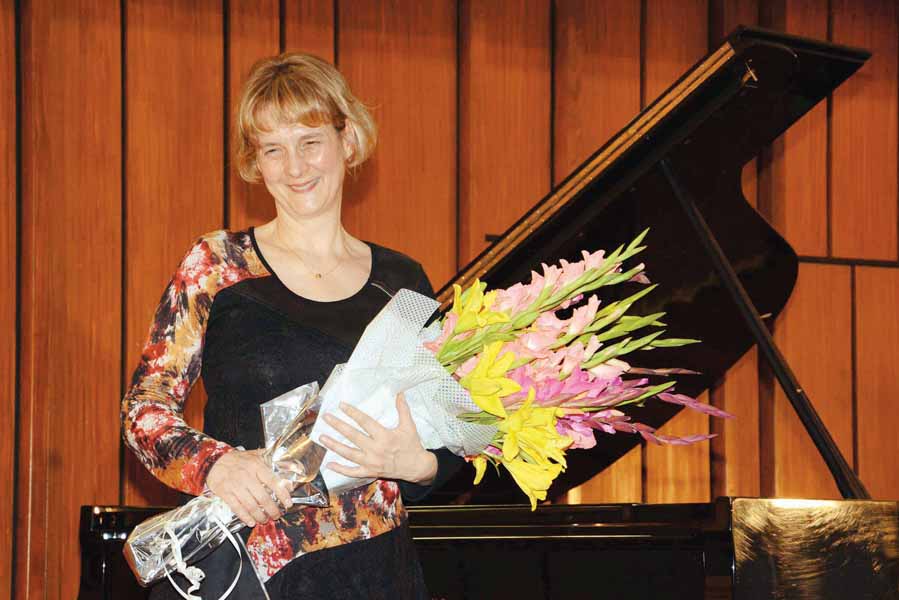 ---
ISLAMABAD:


Martine Mirabel-Pitté warmed up to classical music as a child. Much to her family's surprise, her inclination towards it paved the way for her to establish a career in piano playing.


"I was probably one or two years of age when I began hearing classical tunes on the gramophone in our house, and my parents could tell I was very passionate about it. By age three, I could recognise the music I heard," says the renowned French pianist who is touring the country the second year in a row for a series of concerts in Karachi, Lahore and Islamabad.
A six-year-old Martine began learning the piano and put her mind to becoming a musician. Like her peers, she enjoyed listening to pop music, but found solace in classical and world music. Jazz, she did not enjoy so much. Ever since she completed her education from The École Normale de Musique de Paris (in Germaine Mounier's class), she has been performing in ensembles, mixing music and theatre or music and poetry.
She has been visiting Burma since 1999 to learn Burmese piano under the tutelage of maestro Gita Lulin Maung KoKo. Over the course of time, she has launched two albums and the third one is slated to release next year.
Despite the universality of music, Martine believes that western and oriental classical genres are mutually exclusive. "They [belong to] different cultures, so the sound is not the same," she explains. "While the western genre is based on harmony and a lot of sound going together, in the oriental one, the voice dominates and then, there is ornamentation of it." But she feels that as in the east, classical is also a dying genre in the west. She thinks that young people are less interested in classical music.
Among oriental tunes, she has heard a few Qawwalis. "I've heard Nusrat Fateh Ali Khan on disc. He had an incredible voice," she remarks. While Khan is remembered for collaborations with western musicians, aspiring musicians are wary of creating fusion music. "If musicians [fuse too many instruments], the essence of each instrument is diluted. [It takes away the] richness and purity of music and I prefer to [separately listen to the] rich musical traditions of each part of the world," she said.
Although the specialised field of western classical may sound appealing to an avid listener, it remains a luxury in the country. Martine feels her renditions have been received well by an audience that may not be familiar with the style. "I feel that people are interested and curious and I appreciate that, however, I don't know if they really appreciate the music since it is so new to them."
For amateur pianists, Martine suggests, "[Learning how to play the piano] is a step-by-step process that requires time; so firstly, you must be patient and secondly, listen to a lot of music."
The concert series is being organised through a joint collaboration of the embassies of France and Germany in Pakistan. The events are a follow-up to the silver jubilee celebration of the Élysée Treaty (Treaty of Friendship) between the two countries, which was observed last year.
Martine performed a European classical piano recital at the German embassy on Wednesday. She played compositions by German composer Ludwig Van Beethoven, French composer Gabriel Faure and Hungarian musician Franz Liszt. "I chose these three musicians because their music creates an atmosphere around the compositions," she shares.
Lynley Butt, a professional opera singer and mother of renowned Pakistani singer Haroon feels that Martine played beautifully. Lynley particularly loved Martine's performance of the compositions by Liszt, who is also her favourite composer. "There was an element of nostalgia in that composition," She says, alluding to the fact that the composition was written by Liszt while he was in exile.
Published in The Express Tribune, April 26th, 2014.
Like 
Life & Style on Facebook, 
follow
@ETLifeandStyle
on Twitter for the latest in fashion, gossip and entertainment.