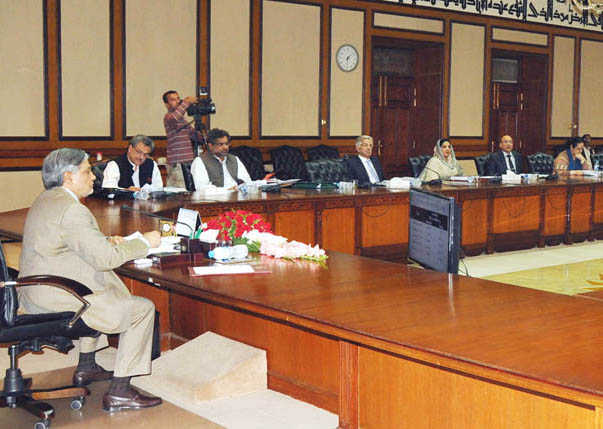 ---
ISLAMABAD: The Economic coordination committee (ECO) on Thursday decided to lift a four month long ban on the import of gold and gold jewellery under strict regulations, while it also decided to withdraw import duty exemption on cotton yarn. A Rs2 billion Ramazan package was also approved.

The decision was taken in the ECC meeting convened at the Prime House in Islamabad, under the chair of finance minister Ishaq Dar.

The committee decided to lift the ban on the import of gold and gold jewellery subject to the following conditions:

a. Imports under savings in any one-month period are restricted to a maximum of 10 kg per exporter.

b. The penalty of default in export commitment is 5% of leviable duty under SRO 266, which is practically "Nil", as customs duty and sales tax on import of gold is 0%. Therefore, import authorisation under the aforementioned savings clause is cancelled, if the exporter fails to honour the export commitment, within the stipulated time frame.

c. All import authorisations issued previously under SRO 266 are cancelled for those exporters, who do not opt for fresh registration or fail to apply for new jewellery Passbook with effect from May 15, 2014.

d. The maximum amount of gold imported under any single transaction should not be exceeded 10 kg.

e. The ban imposed under SRO 760 on the import of gold, vide SRO 53(I)/2014 is lifted.

f. The ban on commercial import of gold imposed vide SRO 52(I)/2014, dated January 24, 2014 is lifted.

The government had imposed a ban on gold import to curb smuggling of the yellow metal into India.

In its previous meeting, the ECC had directed the relevant authorities to provide a comprehensive proposal under which the thrice-extended ban would be lifted.

Custom duty exemption on cotton yarn withdrawn

In order to protect the indigenous cotton yarn industry and check import of the cotton yarn, ECC has decided to withdraw the Statuary Regulatory Order (SRO) 15(I)/2010 which exempted cotton yarn import from custom duty of five per cent.

Rs2 billion Ramazan relief package announced

ECC approved the relief package of Rs2 billion for the month of Ramazan 2014.

Last year Utility Stores Corporation (USC) had provided subsidy of Rs1.65 billion and this year it has proposed Rs1.624 billion for the Ramazan package.

USC will submit the details of the relief on essential commodities in the next ECC meeting for consideration.

Joint expert mediation mechanism withdrawn

The ECC also decided to withdraw its earlier decision of providing the mechanism of joint expert mediation between SNGPL, Power Purchasers and IPPs namely Saif, Sapphire and Orient. Earlier, the three IPPs had claimed Force Majeure Event (FME) under the respective Gas Supply Agreements (GSAs) from SNGPL, as it had failed failing to supply gas to the projects due to rupture of one of its gas pipelines by terrorist activity during 2011. The committee decided that since the IPPs are not willing to accept the out of scope collective mediation which is binding in nature, the dispute resolution mechanism of the respective Project Agreements may be followed.

Minister for Information Pervaiz Rasheed, Water and Power minister Khawaja Asif, Minister for Planning, Development and Reform Ahsan Iqbal, Minister for Industries and Production Ghulam Murtaza Khan Jatoi, Minister for Petroleum and Natural Resources Shahid Khaqan Abbasi, Minister for Science and Technology Zahid Hamid, Minister of State for IT and Telecom Anusha Rehman, federal secretaries and senior officials of the government also attend the meeting.
COMMENTS (1)
Comments are moderated and generally will be posted if they are on-topic and not abusive.
For more information, please see our Comments FAQ