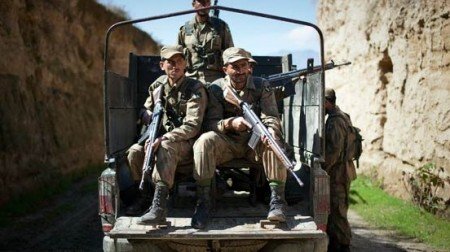 ---
DAMADOLA: Pakistan is so weary of being told it needs to "do more" to fight militants that in one area cleared this year it has the same message for the Americans on the other side of the border in Afghanistan.

"In their language, they need to 'do more'," says Colonel Nauman Saeed, who has led Pakistan Army operations in Bajaur tribal agency, which borders Kunar province in Afghanistan.

He said it had been very frustrating that US forces in Kunar, where the international presence is weak, had failed to act against about 700 militants who had escaped from Bajaur.

The army cleared out the last major strongholds of militants in Bajaur in February and -- though operations are different in each tribal agency -- is keen to use the offensive to show that it is doing more than its fair share of fighting.

In Damadola, some 25 km (16 miles) from the Afghan border, it shows off the place where local militant leader Wali Fakir Muhammad held court, a warren of caves and tunnels so well dug into the hillside that no aerial boming could damage them.

Now all that remains of the militants is a name scrawled onto the wall of a cave and some abandoned belongings -- coats and bedding, a medicine packet, a prayer hat. A single flip-flop lies in the dirt at the low narrow entrance to one of the caves.

US pressure on Pakistan to act against militants on the Afghan border became so intense last year that Pakistanis labelled it the "do more" refrain.

Its answer is to open up areas like Bajaur on army-organised trips to show how much fighting it has already done.

In an operation launched in late 2008, involving some 8,000 troops including a full brigade from the regular Pakistan Army, it fought insurgents who had become so entrenched that they were running a parallel administration.

After clearing the roads, it fought its way towards the last major strongholds and believes it has broken the back of the militants here, making it hard for them to return in strength.

But Kunar province, where the United States has been pulling back troops from remote outposts as it concentrates instead on securing population centres, remains a worry.

"At times we feel let down because of that," Colonel Saeed told a small group of foreign journalists.

Though still not completely secure, Bajaur's neatly laid out fields, lush farmland and fruit trees give a superficial appearance of normality -- at least relative to its erstwhile description as a bastion of international terrorism.

Old men and young girls walk along the road where militants previously ran their own checkpoints, though the damaged buildings show signs of heavy fighting in the army's drive from its main headquarters to Damadola some 20 minutes drive away.

Saeed said that when the fighting started he estimated that around half the militants were Pakistanis, mostly from Bajaur but also from Waziristan and Punjab, while 30 percent were Afghans and 20 percent other foreigners.

He called them "miscreants" rather than Taliban and said they were not well integrated into the Afghan Taliban.

Several thousand militants were killed, while 150 Pakistani soldiers died and 637 were injured in 20 months of operations. Saeed said that western countries should now provide funding to compensate for the damage done in the fighting and reinforce the military effort with development. But the tribal people did not expect hand-outs. "They are very proud people. They require specifically assessed compensation," he said.
COMMENTS
Comments are moderated and generally will be posted if they are on-topic and not abusive.
For more information, please see our Comments FAQ