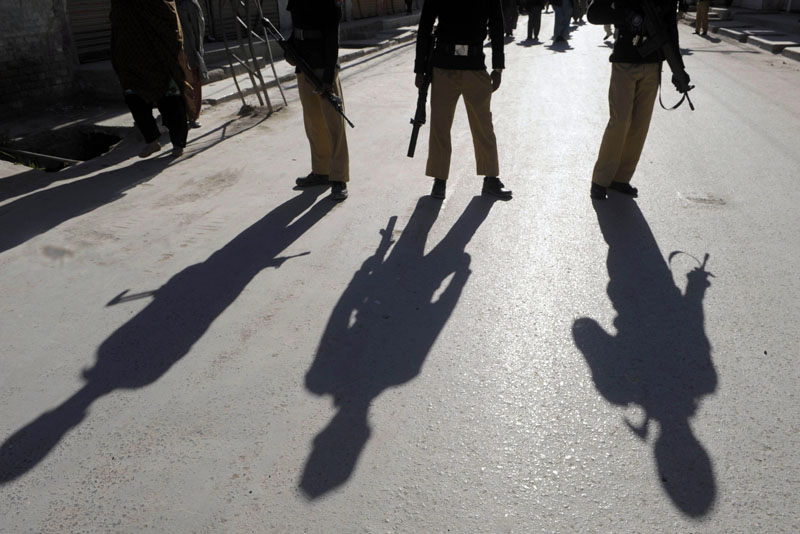 ---
PESHAWAR: A police constable was gunned down by unidentified people inside the University of Peshawar late Monday night.

Police officials said constable Sameen Jan, a resident of Urmar, was on his way home on his bicycle after duty when armed men opened fire at him near Professors Colony, killing him on the spot.

"We found his bicycle by the road and his cell phone and cash were also left untouched," said an official of the campus police, adding the attacker was most probably not a stranger to the deceased and speculated they exchanged a few words before the incident.

An FIR was registered against unidentified men on the complaint of Jan's son Waheed.

Curfew in Sheikhan

The village of Sheikhan on the city's outskirts remained under strict curfew for the third consecutive day on Tuesday, creating problems for residents who were not allowed to come out of their houses.

The curfew has resulted in an acute shortage of edibles and fuel. A tribal elder told The Express Tribune they were under curfew for the past five days as there was a partial curfew for the first two days followed by a complete one for three days now. "There is no food or water inside our house and I fail to comprehend the reason behind this inhumane treatment by the government," he said.

Published in The Express Tribune, April 16th, 2014.
COMMENTS (1)
Comments are moderated and generally will be posted if they are on-topic and not abusive.
For more information, please see our Comments FAQ