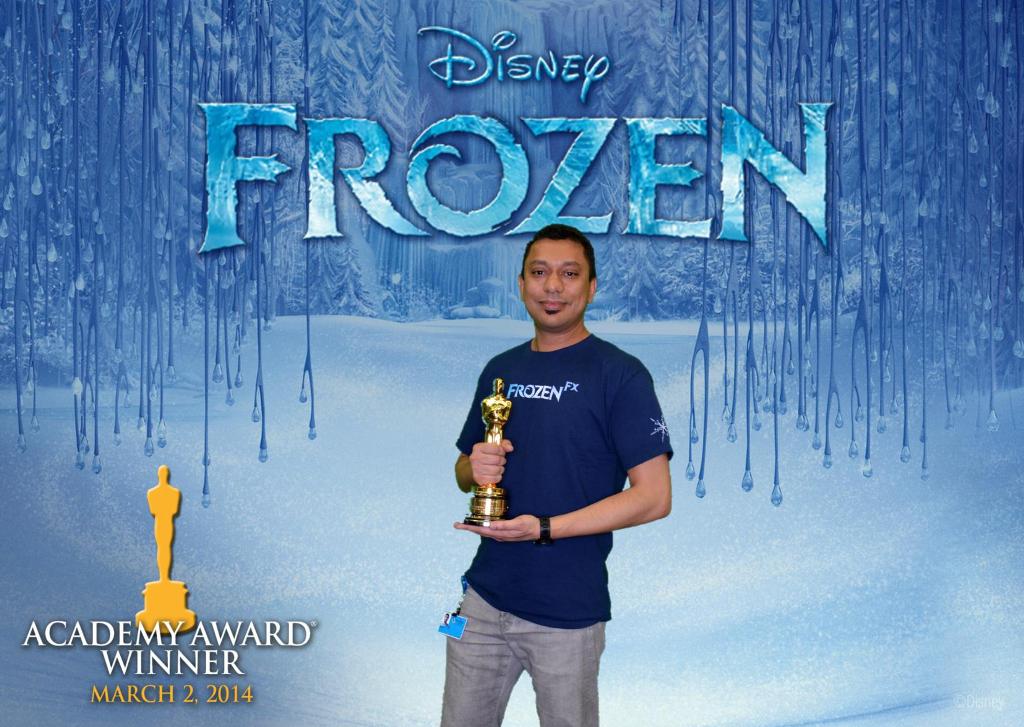 ---
KARACHI:



Richard Parker swims in the Life of Pi ocean. Afterwards, the 10 million hair on the Bengal tiger's body are wiped down, his fur gradually morphing from dripping wet to dry. In Frozen, we watch the little girl Elsa create snowfall and her enchanting ice world emerge. The line between fantasy and reality blurs, so real are the images. But this much is clear; the artist behind this graphic wizardry deserves the three Oscar awards he has received in six years.




The recognition from the industry for Pakistani visual effects artist, 38-year-old Mir Zafar Ali, has been nothing short of a dream come true. His latest Academy Award, for Frozen, was the first in the animation category for the Walt Disney Animation Studios. The 3D musical fantasy-comedy film is now the highest-grossing animated film in history, beating the Lion King and Toy Story 3. It has also made it to the top 10 biggest films, leaving far behind the likes of Star Wars and the Pirates of the Caribbean series.

Ali's first Oscar came for The Golden Compass in 2008. He recalls the moment as being "very, very surreal." "My wife Tamanna Shah was working at Paramount Studios at the time and we were invited to one of their Oscar parties. So we're talking to people, having a good time and then the nomination for the best visual effects category came up and I almost dropped my drink when they announced The Golden Compass as the winner," he said in a telephone interview with The Express Tribune.

It was a tough competition. They had been up against Transformers and Pirates of the Caribbean: At World's End. "It took a good few seconds to sink in," he recalled.

Ali's forte is to mainly recreate natural phenomena such as water, fire, destruction and snow as well as visually recreate fantasy. This takes hundreds of hours of reference research, watching footage of natural phenomena such as tsunamis and storms and poring over science papers.

His second Academy Award came last year for the Life of Pi, a movie based on Yann Martel's acclaimed novel. The Bengal tiger named Richard Parker stars in most sequences, although the real 300-pound tiger was only used when Pi and Richard are not in the same shot. The rest of the scenes consist of computer-generated images that give life to an extremely challenging script. It was in Life of Pi that a real animal and a digital one were used interchangeably for the first time. A team of 15 people were dedicated to creating just the fur by placing and combing all 10 million hair on his body.

But in the United States, even Oscar wins don't promise job security. After the successes of Life of Pi and The Golden Compass, Ali found himself unemployed for some weeks. "After being in business for well over a decade, the company I worked for, Rhythm & Hues, filed for bankruptcy in 2013," he said. "That was right after we won the Oscar for Life of Pi. There were major layoffs and I ended up on the chopping block after I wrapped up Percy Jackson 2 in April."

The layoff came as a near blessing though and a couple of weeks later he was offered a job at Disney where he was assigned Frozen, leading to his second consecutive Oscar win. "The timing worked out perfectly for me."

Ali grew up in Karachi watching a wide range of films and was particularly interested in science-fiction and fantasy movies. Jurassic Park  was his first main inspiration. "It completely blew me away!" he said.

He studied at the BeaconHouse School Systems and always wanted to go to art school. "But back in the day, going to art school wasn't thought of as a good career move — hell, it's still not thought of as a good career move," he admitted. As a result, it took him a while to figure out what he wanted to do.

In A' Levels, the visual effects artist studied what many students do out of a lack of a better choice – science. After that he enrolled at FAST, Karachi to study computer science. "Studying computer science seemed like the most logical step because I was best at Math and Sciences," he said. "But in my last year at FAST, I realised I wasn't fit for regular software engineering."

Ali veered off into AutoCAD and 3d studio max classes, which "pretty much sealed the deal." He didn't bother looking for a regular software engineering job after graduating and instead took a short course in sculpture at the Indus Valley School of Art and Architecture and started looking for jobs in 3d animation. "I was lucky enough to land at Sharp Image — one of the best visual fx and post production houses in Pakistan."

In the two years that Ali worked in Karachi, he took up countless commercials, from Safeguard to pesticides in farm lands. "I hated spring because most of the commercials we had were for these damn pesticides!"

It was in July 1999 that he took the courage to start again and enrolled in a BFA programme at Savannah College of Art and Design (SCAD). This one step went a long, long way — from Karachi to Hollywood. "My family was very supportive of my decision and that was a huge thing considering that most of my relatives thought this was just a hobby and a waste of time."

In the last quarter at SCAD, one of his professors, Garman Harigstad, who he says he owes much of his success to, told him about an entry-level visual fx artist position at Digital Domain.

Ali compiled a demo reel of his best work on projects at SCAD and sent it over. Two weeks after, he was on his way to Los Angeles to work on The Day After Tomorrow.

Since he brought a tsunami to New York in The Day After Tomorrow, Ali has given X-men's Banshee his sonic scream and made monsters rise from the sea in Percy Jackson.

Now when he comes to Karachi he is not known as the crazy kid who wanted to study art but as the crazier man who created fantasy worlds that people back home love to lose themselves in.

Movies Mir Zafar Ali has worked on

2013 Frozen

2013 Percy Jackson: Sea of Monsters

2012 Life of Pi

2012 The Cabin in the Woods

2011 Alvin and the Chipmunks: Chipwrecked

2011 X-Men: First Class

2011 Hop

2010 Yogi Bear

2009 Aliens in the Attic

2009 Land of the Lost

2008 The Mummy: Tomb of the Dragon Emperor

2008 The Incredible Hulk

2007 The Golden Compass

2007 Surf's Up

2007 Spider-Man 3

2007 Ghost Rider

2006 Open Season

2006 Monster House

2005 Stealth

2004 The Day After Tomorrow

Source: IMDB

Published in The Express Tribune, April 13th, 2014.
COMMENTS (38)
Comments are moderated and generally will be posted if they are on-topic and not abusive.
For more information, please see our Comments FAQ