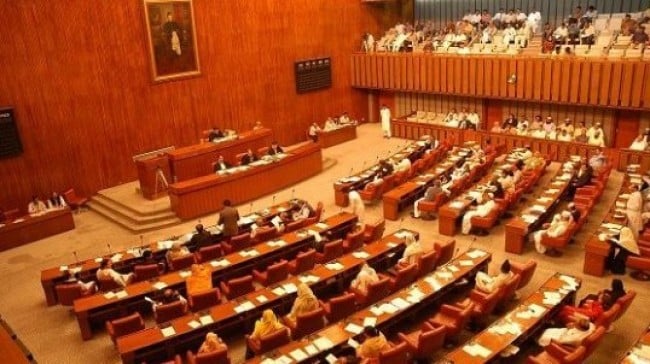 ---
ISLAMABAD: The Senate resounded with desk thumping in approval of the 18th Amendment Bill being passed by the upper house, clearing the way for its implementation. Senate members raised slogans celebrating the landmark revival of the 1973 Constitution.

Members of the Parliament praised the president for the passage of the 18th Amendment.

Among the most important clauses which were approved with a majority consensus include:

- cancellation of the president's power to dissolve the assemblies along with the removal of a bar on third time premiership.

- despite protests and unrest in the Hazara region against renaming of the NWFP, the clause was approved by the House unanimously.

- under the new amendments, the Election Commissioner will be appointed in consultation with the opposition leader.

- the number of cabinet members would be 11 per cent of the total membership of Parliament.

Later addressing the House, Prime Minister Yousaf Raza Gilani called it a historical day for Pakistan - one which saw all the democratic forces  united on one platform.