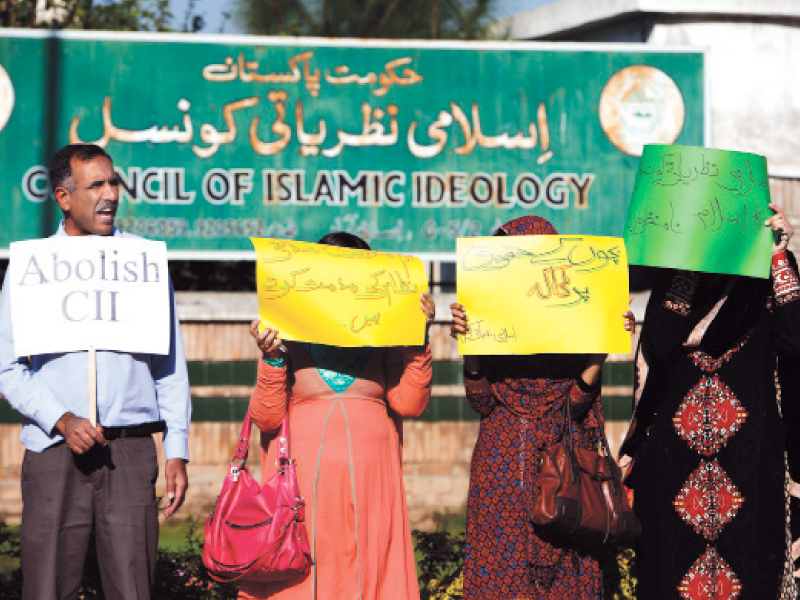 ---
ISLAMABAD:



Even threats could not deter activists from condemning the Council of Islamic Ideology's (CII) stance on child marriage and demanding its dissolution outside the CII building.




A group of civil society activists holding placards chanted slogans against the CII's controversial statements and appealed to the government to disband the body.

The CII, an advisory body that may present its views on legislation from an Islamic perspective if solicited by parliament had recently created a stir when they termed restrictions on child marriages un-Islamic.

"The CII must realise that it's not a legislative body, so it better stop giving us views," said rights activist Farzana Bari.

Despite receiving threats from the CII to discourage them from holding the protest, activists came to register their concern. Rights activist Farzana Bari said she was overwhelmed to see the response of people participating in the protest, especially the youth who had stepped out to support the cause. Some 40 police officials in riot gear encircled the protesters.

We oppose the retrogressive mindset of clerics sitting in the body, declared a joint statement issued by civil society. Rights activist Sarwar Bari said that recent remarks made by Maulana Shirani reflect the ideology of the body that wants to take Pakistan to a pre-Islamic era when killing daughters was a norm. "The anti-women mindset which would like to entrap women should be discouraged."

The CII declared Women's Protection Act, 2006, that provides relief to rape victims as un-Islamic. Its members opposed the domestic violence bill and declared the Family Law Ordinance 1961, that makes it mandatory for a man to seek permission from his first wife in case of second marriage, also un-Islamic.

Published in The Express Tribune, April 1st, 2014.