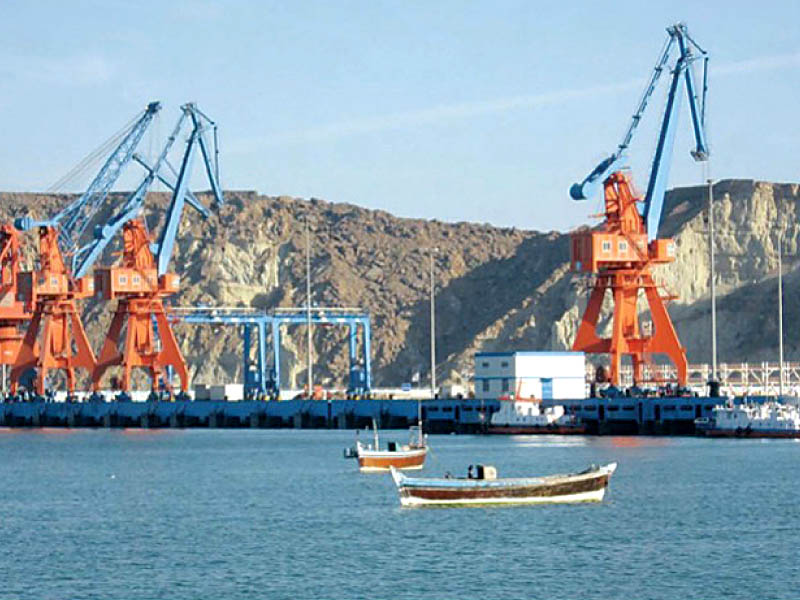 ---
ISLAMABAD:



After taking operational control of the strategically important deep-sea port of Gwadar, China is focusing on poverty and militancy-stricken province of Balochistan, which will get a major chunk of funds worth $31 billion pledged by Beijing for energy and port expansion projects, sources say.




The government is working on a plan to expand Gwadar Port, which is part of an investment programme set by China for boosting economic activities in Balochistan.

"Of the total investment, Lahore-Karachi motorway, Gwadar Port expansion and integrated development of Gwadar will attract an investment of $11 billion," a source said.

Gwadar Port has given western China access to the Arabian Sea, which has upset India and the US. Many western and Indian analysts believe that China has intentions to build naval bases there.

However, Chinese authorities insist that Gwadar Port will give western China access to oil supplies from the Gulf and will boost economic activities in Pakistan. Under a long-term plan, China is expected to lay oil and gas pipelines through Gwadar Port to meet its energy needs.

According to sources, the government has also handed over to Pakistan Army the task of providing fool-proof security to Chinese officials in Balochistan in a bid to address Beijing's concerns and execute the investment plan in the province, which will get 38% of the funds.

In a meeting of the federal cabinet on February 25, it was announced that China had agreed to invest $4.5 billion annually over the next seven years in Pakistan. The premier described it as an unprecedented example where only one country, China, would invest $31.5 billion.

"In the energy sector, 10 projects will be launched in Gadani, Balochistan and six coal projects in Thar, Sindh," he added.

Federal Minister for Planning and Development Ahsan Iqbal told the meeting that China had initially approved projects worth $15-20 billion and working groups had been set up in that regard. However, Beijing was concerned over the security situation and called for making improvements.

PPRA rules

Background discussions with officials reveal that Chinese investment would portray a positive picture of Pakistan and help woo investors from around the world. However, China wanted that it be awarded contracts directly.

The Ministry of Water and Power approached the Public Procurement Regulatory Authority (PPRA) to seek advice on direct award of contracts for mega energy projects to foreign companies, investors and sovereign states. But the PPRA turned down the plea.

However, officials point to the Iran-Pakistan gas pipeline contract, which was being given directly to Iranian company Tadbir Energy. Apart from this, the government was negotiating a liquefied natural gas (LNG) supply deal with Qatar on a state-to-state basis. The officials suggest the government would have to strike such deals with China as well.

"Pakistan has procured nuclear power plants from China without any bidding and the same model could be followed in order to execute the multi-billion-dollar investment plan," an official said.

Many countries, like China and Russia, and even foreign private investors were interested in undertaking big energy projects with the offer of financing but they wanted contracts without bidding, the official said.

Published in The Express Tribune, March 16th, 2015.

Like Business on Facebook, follow @TribuneBiz on Twitter to stay informed and join in the conversation.