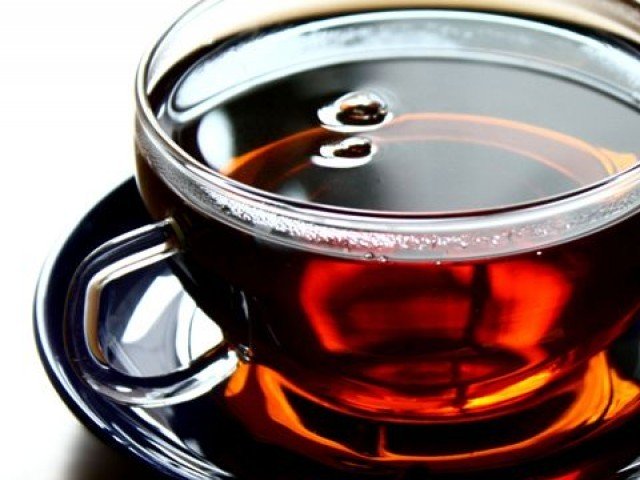 ---
KARACHI:



One in every three cups of tea consumed in the country is tax-evaded and a product of illicit trade, which doesn't only benefit smugglers with higher profit margins against legitimate brands but also costs the national exchequer more than Rs8.7 billion or $84 million a year in tax revenues.




Being one of the world's largest importers and consumers of tea, Pakistan is a big market for tea traders. The country's estimated total consumption stands at approximately $610 million as of calendar year 2013, according to Pakistan Tea Association (PTA).




In what can be described as a major strain on the cash-strapped economy and the profits of legal brands, illicit tea business accounts for more than a third, half by some estimates, of the total market.

According to data compiled by Pakistan Bureau of Statistics, the country imported 122,000 tons or Rs35.6 billion worth of tea in fiscal year (FY) 2012-13 – the number did not include 112,000 tons of tea smuggled and consumed in the country.

"Through repeated market research, we know that per capita consumption of tea in Pakistan is 1.17 kgs per year," Unilever Pakistan Limited, one of the major players in the market and a member of PTA, said in response to queries.

"Based on an approximate population of 200 million, this amounts to 234,000 tons [234 million kg]. Thus, almost half the tea is smuggled in mainly through misuse of the Afghan Transit Treaty," the company said quoting PTA. Based on their findings, the illicit tea business comes to about 48% of the total market. Explaining the challenges facing the legitimate industry, the maker of Lipton Yellow Label Tea said anti-smuggling measures taken so far have been short-lived and have a negligible impact.

"Business operations and profitability of legitimate commercial importers and packers have been severely curtailed," it said, adding, "smugglers enjoy an unfair advantage of approximately Rs70 per kg."




Due to high taxes, the lower-income groups are sold tea adulterated with harmful dyes, pigeon's blood, sawdust to name a few, it said.

While the smugglers are benefiting at the cost of legitimate industry, the damage to the national exchequer in terms of revenue loss is equally significant.

The import duty levied on tea has remained unchanged at 10% for the past several years while general sales tax (GST) was raised from 16% to 17% in the last budget. If the tax rate is applied to 112,000 tons of smuggled tea, it translates to a potential revenue loss of Rs8.7 billion for FY2013.

Moreover, an estimated 100,000 tons were imported through non-duty-paid channels in 2013, resulting in a total revenue loss of Rs11 billion, Unilever said quoting PTA.

The government's version on the subject has been covered in a separate report of the same edition. The industry, however, suggested what can be done to curb this menace.

Quantitative limits, lower tax

The Pakistani arm of the Anglo-Dutch foods and consumer goods giant said the government should improve procedures for Afghan transit trade and place quantitative limits on the volume of tea that is allowed access through Pakistan.

Afghanistan is a nation of only 25 million – predominantly green tea drinkers – but they are importing nearly the same quantity of black tea as Pakistan, a nation of nearly 200 million, it said.

The government's support via policy decisions or reduced taxation can create a more level playing field by reducing the cost of branded tea for consumers, Unilever said. "In June 2012, sales tax on black tea was reduced from 16% to 5% to create a more level playing field. However, the decision was reversed in nine months due to revenue pressure," it said.

However, the window in that case was too small for any significant impact on the infrastructure and modus operandi of the informal sector, the consumer goods giant said.

"Policy decisions must be given due time to demonstrate impact on tea smuggling, which has been a practice for decades. Smuggling can be eliminated gradually and with patience through mutual cooperation between the government and tea manufacturers," it said.

Published in The Express Tribune, February 24th, 2014.

Like Business on Facebook, follow @TribuneBiz on Twitter to stay informed and join in the conversation.
COMMENTS (4)
Comments are moderated and generally will be posted if they are on-topic and not abusive.
For more information, please see our Comments FAQ