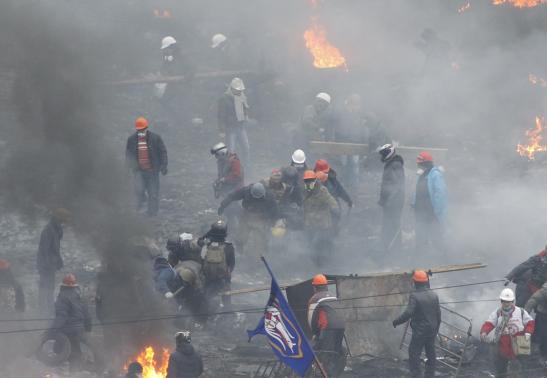 ---
KIEV:



Ukraine's opposition leaders signed an EU-mediated peace deal with President Viktor Yanukovich on Friday, aiming to resolve a political crisis in which scores have been killed and opening the way for an early presidential election this year.




Under pressure to quit from mass demonstrations in Kiev, Russian-backed Yanukovich made a series of concessions to pro-European opponents, including a national unity government and constitutional change to reduce his powers, as well as bringing forward the poll.

"There are no steps that we should not take to restore peace in Ukraine," the president said in announcing his concessions before the agreement was signed.

"I announce that I am initiating early elections." Within hours, parliament voted to revert to a previous constitution slashing Yanukovich's prerogatives, sacked his interior minister blamed for this week's bloodshed, and amended the criminal code to pave the way to release his arch-rival, jailed opposition leader Yulia Tymoshenko.

Anti-government protesters remained encamped in Kiev's central Independence Square, known as the Maidan or 'Euro-Maidan', and scene of the bloodshed this week. Shortly after the signing ceremony, an open coffin carrying one of the dead from Thursday's violence, was borne across the square as a bare-chested drummer beat out a funeral tattoo with people chanting "Heroes don't die! Bandits out!"

Published in The Express Tribune, February 22nd, 2014.
COMMENTS
Comments are moderated and generally will be posted if they are on-topic and not abusive.
For more information, please see our Comments FAQ