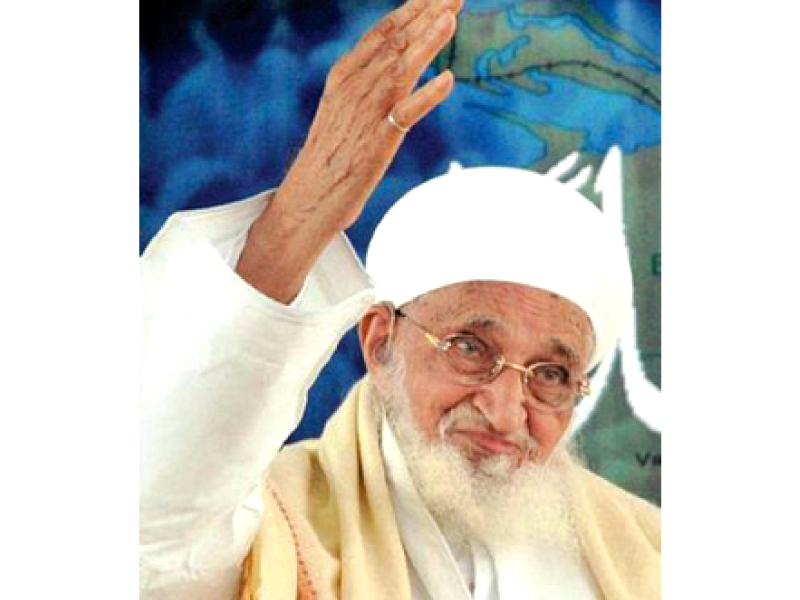 ---
ISLAMABAD:



The internationally-acclaimed scholar and leader of Dawoodi Bohra Jamaat, Dr Syedna Burhanuddin was an inspiration not just for his own community or the country, but the world at large.




The 102-year-old scholar, who passed away in Mumbai last month, was known as an ambassador of peace and revered for promoting the universal values of peace, love, brotherhood and humanity.

For his services in the fields of religion, education and international trade, he was awarded prestigious titles including the Star of Jordan and the Order of the Nile by the governments of Jordan and Egypt, respectively. He was also conferred honorary doctorates for his efforts in social and educational development by renowned institutes like Al-Azhar University, Cairo, Aligarh Muslim University and the University of Karachi.

His devotees will strive to carry on his legacy of creating harmony among the Muslim world by following his principles. He was a bridge between all religions of the world. He aspired to establish a tolerant society as envisioned in the Quran and Sunnah.

This was the crux of a condolence reference organised for Burhanuddin at the Islamabad Club on Monday. Coordinated by Sheikh Mansoor Ali, the session was attended by devotees of the scholar including academics, journalists, envoys as well as religious and political leaders.

Pakistan Muslim League Chairman Raja Muhammad Zafarul Haq stated that efforts for unity among the Muslim fraternity shall be made based on the teachings of Burhanuddin. Sectarian unity can resolve our collective as well as individual differences, he added.

Zafarul Haq said that the presence of such a spiritual personality was a boon as well as a blessing for the Muslim world. He created harmony among different sects, added Zafarul Haq.

Federal Minister for Religious Affairs Sardar Muhammad Yousaf said that Burhanuddin's knowledge and virtue are imitable. He asked religious scholars to instruct people that Islam prohibits murders, killings and repression.

Minister for Foreign Affairs Syed Aminul Hasnat said that Burhanuddin managed to reconstruct tombs and monuments of his ancestors, services that will be remembered forever.

Markazi Imam Hussain Council Chairman Dr Ghazanfar Mehdi said that Islamic culture should be revived by acting upon the mission of Burhanuddin, who aspired to establish a world of love and brotherhood for all of humanity.

Dawoodi Bohra Jamaat Rawalpindi President Ibrahim Jafar said that Burhanuddin was well-organised and taking after his legacy, his followers believe in self-reliance.

Justice Ali Nawaz Chouhan said that Burhanuddin was equally respected in all sects and societies around the world. He added that the scholar was recognised as the ambassador of global peace.

Senior member of Islamic Ideology Council Allama Mufti Kifayat Hussain Naqvi said that Burhanuddin was a lover of the Prophet (PBUH) and his family members, adding that he received and hosted Burhanuddin multiple times; the latter always imparted the message of establishing a corruption-free society.

Two resolutions were also passed during the reference. The first one demanded for the establishment of Dr Syedna Burhanuddin Chairs in Karachi University and the International Islamic University Islamabad. The second resolution demanded to relate two roads in Karachi and Islamabad respectively with the name of Burhanuddin.

Senator Rehman Malik said Burhanuddin's philosophy of love and harmony is an antidote to the forces of extremism which have plagued the country and divided it into various factions and conflicting schools of thought.

Federal Minister for Information Parvaiz Rasheed commended Burhanuddin's acumen of religious and worldly knowledge, saying that his mystic teachings are a lesson in their own.

The Australian High Commissioner Peter Heyward said that Burhanuddin will be remembered as a great man not just in the country or the Indian subcontinent, but also in his (Heyward's) native country, Australia.

"Terrible things are being done in the name of religion and what the country needs is to recall the virtues and wisdom of the fallen leader. Islam is the religion of peace, which is rooted in the soil," added Heyward.

Participants also offered a collective prayer for the departed. The reference was jointly organised by the Markazi Imam Hussain Council and the Dawoodi Bohra Jamaat.

Published in The Express Tribune, February 12th, 2014.