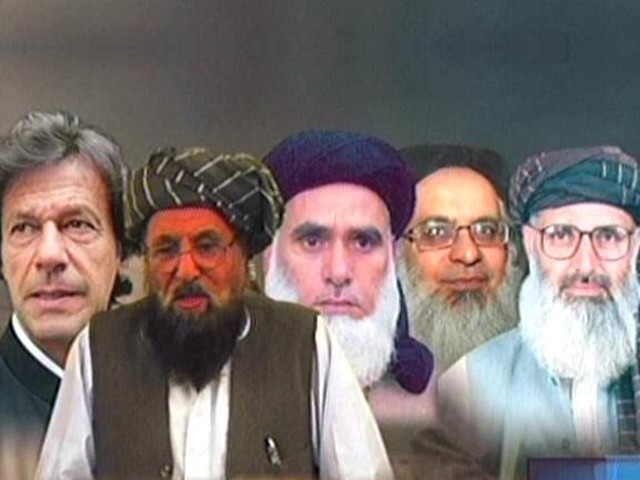 ---
DERA ISMAIL KHAN/ ISLAMABAD: The Tehreek-e-Taliban Pakistan (TTP) on Saturday proposed the names of senior political and religious leaders for a committee to converse with the government's dialogue committee on its behalf, members of the Taliban's proposed committee told The Express Tribune.

The five member committee include Pakistan Tehreek-e-Insaf (PTI) chief MNA Imran Khan, Jamiat Ulema Islam-Samiul Haq group (JUI-S) chief Maulana Samiul Haq, Jamiat Ulema Islam-Fazal's (JUI-F) Mufti Kifayatullah, Jamaat-e-Islami (JI) provincial chief Professor Mohammad Ibrahim, and the former cleric of Lal Masjid Maulana Abdul Aziz.

Prof. Ibrahim and Maulana Aziz confirmed that the Taliban had contacted them on Saturday and requested them to play role of mediators on their behalf, Express News reported.

"We will play the role of mediators and messengers and we will deliver messages from the Taliban to the government and will convey the government's messages to the Taliban leadership," the JI leader explained.

Maulana Aziz told The Express Tribune that he has neither accepted, nor refused to become part of the committee.

Maulana Samiul Haq said that he will decide on his participation after the situation becomes clearer, Express News reported.

PTI distances itself from committee

Contrary to the stance of other members of the proposed committee named by the TTP on Saturday, PTI chief Imran Khan distanced himself from the committee.

Imran said that the TTP should select their own representatives for talks. He reiterated faith in the four member committee announced by the government earlier this week.


TTP should select their own Taliban representatives 4 peace talks. We have full faith in the 4 member committee announced by the govt. 1/2

— Imran Khan (@ImranKhanPTI) February 1, 2014


However, he said that the matter will be raised in the party's core committee meeting scheduled for Monday on further course of action.


2/2 However we will discuss how PTI can be of further assistance to further the dialogue in our Core Committee meeting on Monday.

— Imran Khan (@ImranKhanPTI) February 1, 2014