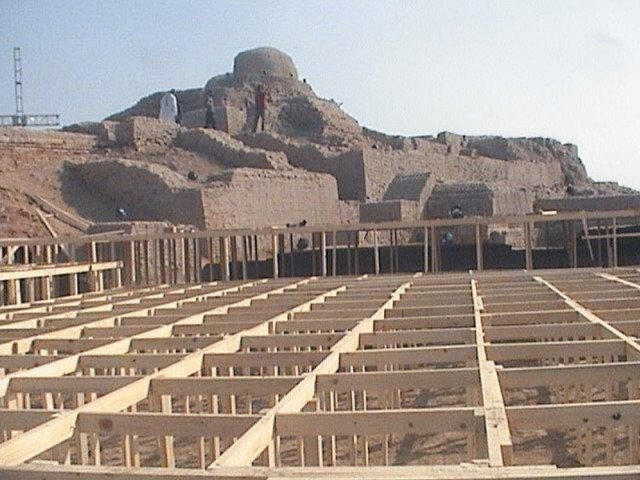 ---
KARACHI:
The Sindh High Court (SHC) has ordered the culture and heritage authorities to take "utmost care" of the archaeological site of Moen Jo Daro, where the Sindh Festival is being organised by the Pakistan Peoples Party's patron-in-chief Bilawal Bhutto Zardari, so that no damage is caused to the remains of one of the world's earliest urban settlement.
inspected MD site with Director Archaeology (30yrs experience). Explained how every precaution has been taken. Remains are safe. More soon.

— BilawalBhuttoZardari (@BBhuttoZardari) January 30, 2014


SHC chief justice Maqbool Baqar, who headed the bench, also issued notice to the provincial chief secretary, culture and heritage department secretary and advocate-general to file their comments. Since the festival is starting on February 1 with the opening ceremony at Moen Jo Daro, the judges also directed the office to ensure that the notices are served to the respondents through all modes of communication.




The directions came on a petition filed by four lawyers, who had taken the key provincial bureaucrat along with the culture and heritage secretary to the court over alleged damages to the Unesco World Heritage Site caused during preparations for the first Sindh Festival.

Advocate Qazi Ali Athar, one of the petitioners, informed the judges that his grandfather was elevated as chief justice (Qazi ul Qazat) of the state of Sindh during the period of Mughal Empire, explaining his special interest in the preservation of Sindh's cultural heritage.

The petitioners alleged that the culture and heritage secretary, under the control and command of the chief secretary, was destroying the archaeological site of Moen Jo Daro — a symbol of the Indus Valley civilisation (dating back to 10,000 years BC) — by holding a cultural show.

Culture versus heritage

"That this cultural activity may cause damages to the originality of the site is of high importance for all human beings," stated the petitioners. They expressed apprehension that if extreme care is not taken by the organiser [culture and heritage department] in making arrangements, the festival could cause irretrievable damage to the site which will be a great national tragedy.

The petitioners told the judges that there is extreme urgency in the matter, as unless the official respondents are cautioned, the petition would become meaningless.

They pleaded the court to order the officials to halt activity/nuisance at the world heritage site and declare it as the most precious heritage of the state. The court was also urged to pass a restraining order for future activities on governmental and public levels within and near the site.

Understanding the gravity of the situation, the bench ordered issuance of notices to the chief secretary, culture and heritage secretary and Sindh AG to file their comments in reply to the allegations in the petition.

Published in The Express Tribune, January 31st, 2014.
COMMENTS (2)
Comments are moderated and generally will be posted if they are on-topic and not abusive.
For more information, please see our Comments FAQ