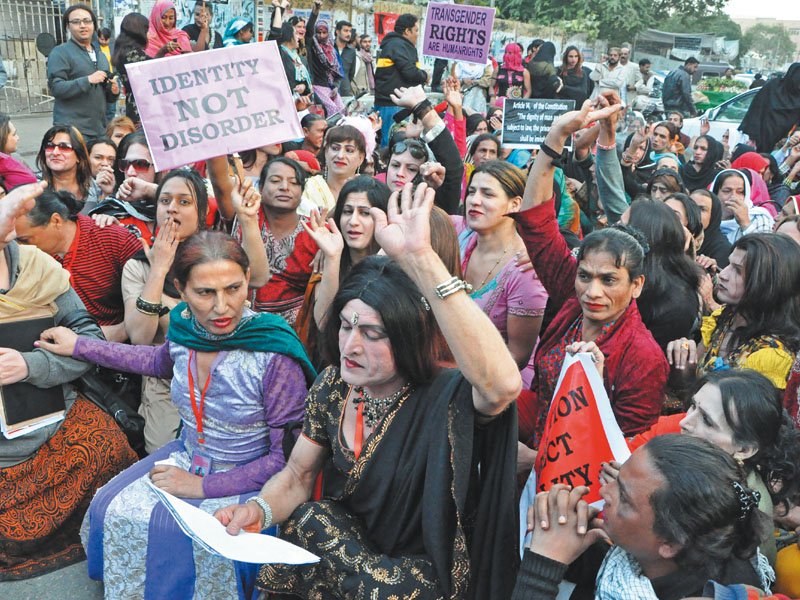 ---
KARACHI: Transgender and social activists have decided to kick off a rights campaign from today in the wake of recent police raids and discriminatory television programmes that have allegedly shown the community in a negative light.

'The Movement for Transgender Rights,' is being kicked off by the Gender Interactive Alliance (GIA) today with a meeting between its members and officials of the Human Rights Commission of Pakistan. Around 500 transgender persons are expected to take part in the campaign.

"This campaign is being launched to demand an end to the discrimination towards the transgender community," explained the organisation's vice-president, Mazhar Anjum.




Over the next few days, the movement, which will run until April, will see demonstrations in Hyderabad, Sukkur, Khairpur while the participants will also hold talks with various stakeholders. Later, the movement plans to go nationwide with press conferences in Lahore and Islamabad.

Activists explained that the need for such a movement was felt when, recently, a transgender activist was forced to leave her home in Karachi, following death threats. Moreover, a programme recently aired on a news channel prompted the police to conduct raids at their homes, with the officials accusing them of indulging in immoral acts and spreading AIDS.

Anjum said that, through this campaign, they wish to demand the government to give them jobs and treat them equally as other citizens. "The two per cent job quota system is nowhere in sight. Community centres have been built for us, but we are not allowed to use them."

The eunuchs complained that they were not given jobs in government offices, while private organisations, such as banks, did not even allow them to open accounts.

A social activist, Rana Asif, who is also the GIA's general secretary, said that they wanted to make the country a transgender-friendly one. He revealed that they had already sent their proposals to the Karachi Commissioner and would be holding meetings with the police and government officials regarding the issues faced by the transgender community.

"The media trial against us is a violation of article 10-A of the Constitution, while the breach of the privacy of our homes is against Article 14 of the same," he said.

Published in The Express Tribune, January 28th, 2014.
COMMENTS
Comments are moderated and generally will be posted if they are on-topic and not abusive.
For more information, please see our Comments FAQ