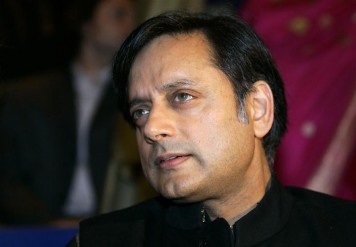 ---
NEW DELHI: "We are distressed by the unseemly controversy that has arisen about some unauthorised tweets from our Twitter accounts," stated Indian minister Shashi Tharoor and his wife Sundana Pushkar Tharoor in a joint statement on Thursday. 

The statement was released soon after curious messages were seen on the Twitter account of the suave thrice-married human resources minister on Wednesday evening.

The tweets revealed private exchanges allegedly between 57-year-old Tharoor and Pakistani journalist Mehr Tarar, 45, in which she professed her love for him and he explained that his wife had discovered his adultery.

Soon after, Tharoor said his account (@shashitharoor) had been hacked but tweets from Sunanda Tharoor's account stated that she was the one posting from his account.

"Our accounts have not been hacked and I have been sending out these tweets. I cannot tolerate this. This is a Pakistani woman who is an ISI (Inter Services Intelligence) agent, and she is stalking my husband," she was also quoted as saying in The Economic Times.

However, in the vaguely-phrased joint statement issued on Thursday, the two emphasised that 'unauthorised' tweets had been sent from their account and that Sundana's statements to the press were being distorted.

The statement also revealed that Sundana has been ill and will be hospitalised this week.

Sunanda had also been quoted in Indian Express as saying that she would be seeking a divorce, but then appeared to have relented as she later wrote on her Twitter account (@sptvrock) that "Shashi an& I are very happy together".

Mehr Tarar (@mehrtarar) has denied having an affair with Tharoor in a series of messages.

Tharoor on Twitter

Tharoor, a famed author who was once in the running to be secretary general of the United Nations, is the most active user of Twitter in the Indian government and he has been instrumental in encouraging colleagues.
COMMENTS (15)
Comments are moderated and generally will be posted if they are on-topic and not abusive.
For more information, please see our Comments FAQ