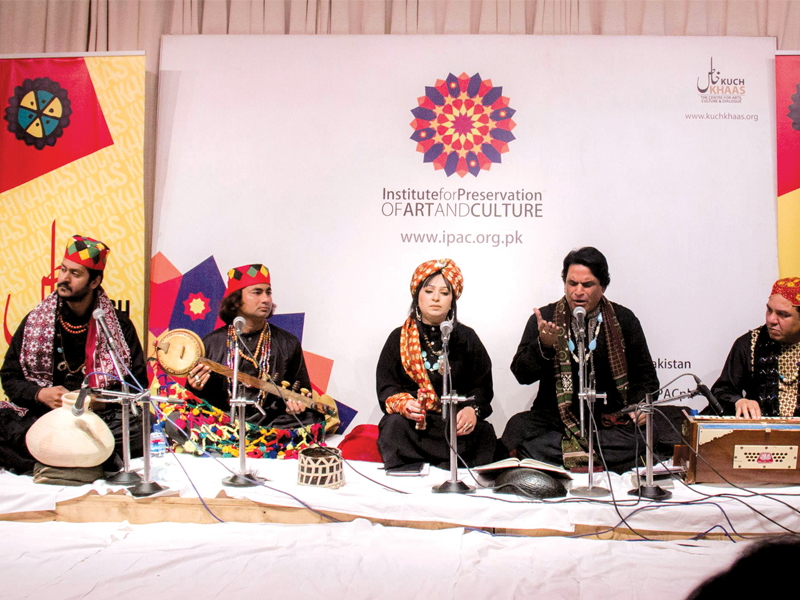 ---
ISLAMABAD: In a befitting conclusion of the outgoing year, a night of ethereal melody was held at Kuch Khaas late Saturday with the noted folk musician Qurban Niazi mesmerizing the audience with his renditions of mystic Sufi poetry before a select gathering.       

Niazi elevated the aura with his powerful vocals, gestures and the rhythm of traditional instruments. Playing in sync with the artist, the accompaniments were Umair Ali on gharha (clay water pot), Muhammad Riaz on king (a strings instrument), Iqbal Ali on tabla (percussion) and Sajjad Ali on harmonium accompanied by Nasreen Akhtar as vocalist.

Opening the event with his own composition of Amir Khusro's "Man Kunto Maula", Qurban went on to folk and semi-classical songs emulated by the poetry of Sufi saints such as Bulleh Shah, Sultan Bahu, Ghulam Farid, Waris Shah and Mian Muhammad Bux.

The audience seemed thoroughly engrossed in the music as they warmed up to the ensuing performances, connecting with the beat and reciprocating the performers' energy with generous applause and enthusiasm.

Hina Mir, a woman from the audience, said that she particularly enjoyed the table beats and lost herself in the rhythm.

She lamented disconnect between the younger generation and the classical music, saying that our dying folk heritage should be cherished.

Syed Imran, a university student and an Afghan national, said he enjoyed the melodies even though he did not fully comprehend the verses, which was completely different from his native Persian and Pashto languages.

Esha Ghani, a teacher, dubbed the musical experience "pure detoxification of the soul", adding that watching the live performance helped her appreciate the true essence of mystic poetry which she had always been fond of.

One of the country's most popular Punjabi folk singers, Niazi has been associated with radio and television since the early 1960s. Along with his brother, the legendary (late) Tufail Niazi, Qurban performed "Layi beqadraan naal yaari, Tey tutt gayi tarak kar ke" at the opening of Pakistan Television in Lahore in 1964, and "Rab rakhe maan jawaanan di" during the war in the subsequent year. He has earned numerous awards for his contribution to the performing arts.

The musical evening was organised by the Institute for Preservation of Art and Culture in collaboration with Kuch Khaas, City FM89 and Danka.pk.

Published in The Express Tribune, December 30th, 2013.