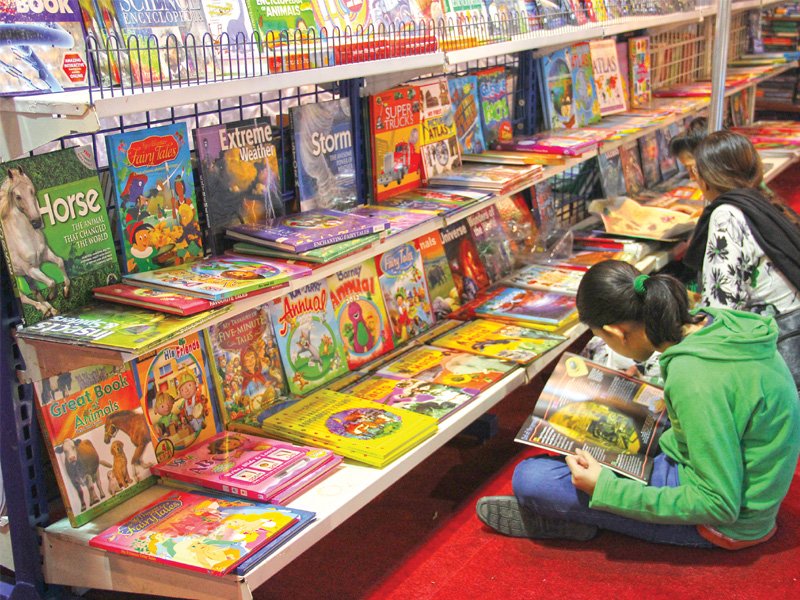 ---
KARACHI: This year's book fair is bound to attract the little ones in the city as a majority of the stalls are carrying a variety of children's books.

The ninth Karachi International Book Fair, organised by Pakistan Booksellers Association, is being held at the Expo Centre till Monday. This annual book fair is known to be the largest one in the city. Apart from children, several students, parents and other residents of the city have headed to the centre to check out the books on sale.




Over 300 publication houses have set up their booths at the fair, where parents were busy reading from animated paperbacks or selecting from the several volumes of short stories in English.

"For some reason, the demand for children's books has risen of late," claimed Owais Mirza Jamil, the convener of the exhibition. "A lot of work is being done in this type of fiction and people at the fair are mostly buying such books."

The selection of stalls was done with care. The organisers have managed to call booksellers from as far as Peshawar and Lahore to attend the event. Apart from children's books, a vast collection of literature in Sindhi, Persian, Punjabi and Urdu is also available at over 30 stalls.

Amid the swarming pile of fancy, gold-embossed titles, Urdu translations of the works of Rousseau, Tolstoy and Marx could be easily spotted at every other stall. "The Urdu translations of these works are immensely popular," said Zahoor Khan, the managing director of Fiction House, a key publishing company based in Lahore. "Since no good Urdu works are being produced, people are hoarding these books."

But the books on Sindhi literature had almost no takers. The in-charge of a stall set up by the Urdu Academy of Sindh had a collection of works on Sachal Sarmast and Shah Abdul Latif, but informed that no copies had been sold all day.

On one side of the hall, a stall by the Muttahida Qaumi Movement (MQM) Literature Committee was handing out discounted copies of MQM chief Altaf Hussain's 'Falsafa-e-Muhabbat' at a discounted price of Rs50. Each copy of the book is originally priced at Rs250. "In just a few hours at this exhibition, we have sold over a hundred copies of the book."

Published in The Express Tribune, December 7th, 2013.
COMMENTS
Comments are moderated and generally will be posted if they are on-topic and not abusive.
For more information, please see our Comments FAQ