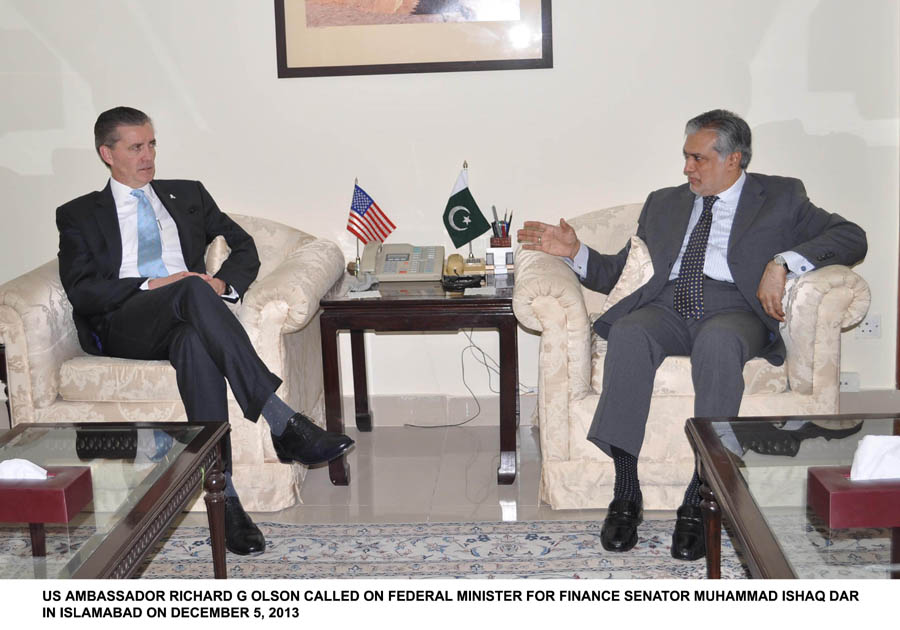 ---
ISLAMABAD:



With its foreign currency reserves hitting the dangerously low level of $3 billion, Pakistan has requested the United States to expedite the process of releasing about $900 million on account of services that Islamabad has rendered in global fight against terrorism.




The request to disburse dues on account of the Coalition Support Fund (CSF) was made by Finance Minister Ishaq Dar on Thursday during a meeting with Washington's Ambassador to Islamabad Richard Olson. He urged the US to release the outstanding dues in order to avoid the looming threat of default on international payments.

"Early reimbursements of dues on account of Coalition Support Fund… will help Pakistan in improving its present foreign exchange reserves position," Dar was quoted as saying in an official handout, issued by the Ministry of Finance.

But while the urgency to secure the release of CSF dues builds up on one hand, Dar's request could not come at a more inopportune moment.




As the minister implored the US envoy to fast track the release of the fund behind the closed doors of Q Block, the workers, office bearers and parliamentarians of Pakistan Tehreek-e-Insaf were staging protests barely a few hundred yards away, outside the Parliament House, demanding the government stop the passage of Nato supplies through the country in retaliation to continuous drone strikes in the tribal areas.

The US Ambassador, meanwhile, remained non-committal about the timing of the release. An official handout stated that Olson assured the Finance Minister that he would convey Pakistan's position to the US government.

According to the State Bank of Pakistan, the country's foreign reserves have plunged to $3.05 billion as of November 29 – a sum sufficient to back an import bill of just three weeks. The reserves held by commercial banks stood at $5.19 billion, said the SBP. The outflows were not matching with the inflows due to heavy repayments to the IMF and other international lenders, and delays in taking certain policy decisions which the World Bank and the Asian Development Bank have demanded be implemented before release of loans.

The IMF has so far given only $547 million while another tranche of roughly the same amount is expected to be approved by the lender's executive board before the end of this month.

For the current financial year, Pakistan has budgeted $1.2 billion on account of CSF. However, the US has so far disbursed only $322 million. Around $900 million remain outstanding. Pakistan hopes to receive at least $300 million more in coming weeks.

It is not yet clear whether the Obama Administration has notified the Congress about releasing another tranche to Pakistan on account of CSF. The administration is required to give a 15-day notification before it can release the amount. Christmas and New Year holidays in the US will start from December 23, which may adversely affect Pakistan's bid for early disbursements.



Published in The Express Tribune, December 6th, 2013.