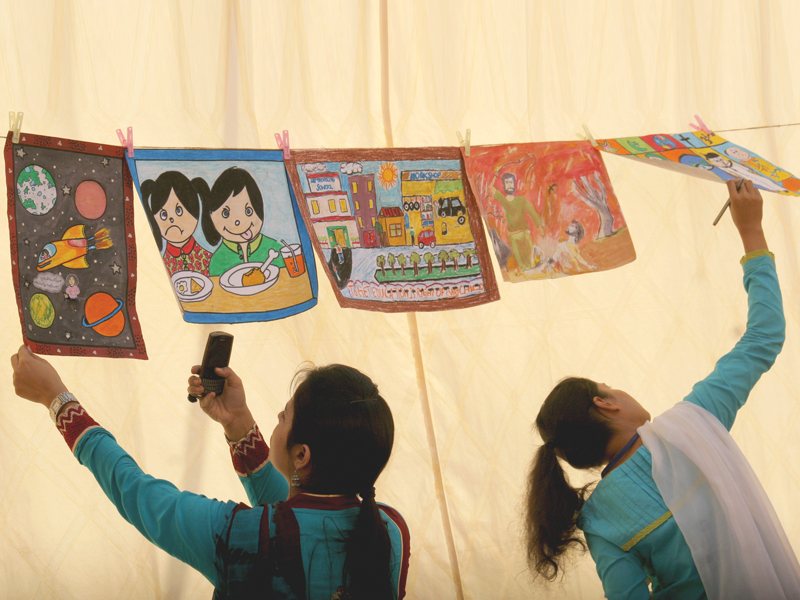 ---
KARACHI:



"My message in this picture is to expose the human rights violations being committed by influential people on the ordinary people in the contemporary age of civilisation," said Rooma, a grade eight student, whose painting received much appreciation during a programme hosted by NGO Aahung to celebrate Universal Children's Day.




A daughter of a tailor Rooma comes from the restive Manghopir. In the neighbourhood, a large number of children, especially girls, have never been to schools, but determined Rooma aims to attain a doctorate degree as well as become a religious preacher to promote education in her religious vicinity, she informed The Express Tribune with an energetic face.

To honour children around the world, Aahung organised an exhibition of five teenage painters at the Karachi Metropolitan Corporation Sports Complex on Wednesday. The paintings were prepared by students aged between 12 and 15 years.

Earlier, Aahung had organised a competition of 18 schools in which each school shortlisted 10 of their students' projects. The 180 projects were further shortlisted by a panel of judges.

Most of the schools are government schools located in the outskirts of the city and they are practicing Aahung's Life Skills Based Education (LSBE).




A student of Chashma Goth government school, Wazeer Ali, while talking to The Express Tribune said that in order to progress, the civil society needs to avoid gender discrimination. "I, at least, would not stop my daughters and sisters from getting education," he promised.

Speaking on the occasion, Aahung's life skills project manager Aisha Ijaz said they were thrilled to hold the first large-scale arts competition. The main aim of this competition was to assess the children's understanding of Aahung's LSBE.

"This day is not simply dedicated to the children but to bring awareness and honour children who have been subjected to violence in the form of abuse, exploitation and discrimination," she stressed.

The event was attended by media personnel, teachers and students. A short tableau was performed by students of Pak Grammer School followed by the launch of Aahung's music video sung by vocalist Umair Jaswal. The video highlighted the issues adolescents are facing within Pakistan.

Aahung has developed the LSBE curriculum for private and public schools to educate adolescents about reproductive health, Ijaz added.

Describing the methodology, she explained that through training, modules and in-depth information, Aahung trains teachers on effective teaching methods to address the subject of reproductive health.

Famous musician Shehzad Roy said that the competition has given the students an opportunity to exhibit their creativity and reflect on their understanding on two topics - gender equality and human rights.

He added the people must promote a progressive culture for the betterment of the society. "We wish to educate and empower children for a bright future of Pakistan" said Roy.

Later, Roy enthralled the audience by singing one of his famous melodies.

Published in The Express Tribune, November 21st, 2013.