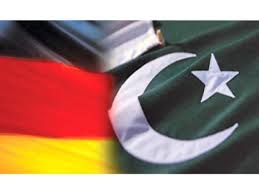 ---
KARACHI: Pakistan and India should set aside their hostilities and learn from the example of Germany and the rest of Europe, who enjoy a thriving relationship.

Prof Dr Eberhard Sandschneider, Otto Wolff-director of the Research Institute German Council on Foreign Relations, made this suggestion during an interactive session on 'Pakistan-German relations in the European context' held under the auspices of the Karachi Council on Foreign Relations (KCFR) at Defence Authority Club on Tuesday. KCFR secretary-general Ehsan Mukhtar Zubairi also shed light on the bilateral relations between Germany and Pakistan.

According to Prof Sandschneider, not only Pakistan and India but India, China and Japan should set aside their differences. He lauded the Elysee treaty between Germany and France in 1963, adding that it did not come overnight or by chance. The hostility between India and Pakistan may take also time to subside but the countries should not give up on their efforts. "It requires willingness to overcome hostility. Giving up resentment is necessary for development and moving forward."




He said that Germany and Pakistan are living in different regions of the world but their neighbours are of great importance in terms of foreign policy. For Germany all Europeans are their first priority and so is their partner United States, which makes it difficult for them to define their foreign policy with Russia in their neighbourhood, he pointed out.

For Pakistan, its neighbours, such as India, China and Afghanistan, are of supreme importance as is the ever-present "invisible partner" - the US, he said. The bilateral relations between Pakistan and Germany have progressed considerably but there should be room for further improvement, he said.

"We are living in a global village and if anything happens to China or affects its domestic stability it will change the global outlook," he believed.

German consul-general Dr Tilo Klinner admitted that German-Pakistan relations are at a very intensive stage and, only two weeks ago, the largest business delegation, including the Punjab chief minister, visited Germany. Calling it the beginning of a more intensive dialogue, he said that they are looking forward to trade and investment conferences in Karachi and Lahore, and also wanted to establish a chamber of commerce in Karachi. "We are trying to better the current contacts between the two countries. We want to change the perceptions about Pakistan abroad by telling success stories rather than her problems."

He said that they were trying to highlight the positive aspects of Pakistan as it has a lot to offer to its foreign partners, adding that Pakistan also has a rich culture and very important academic institutions. "It is a good place for business if you know how."

Published in The Express Tribune, November 14th,2013.
COMMENTS
Comments are moderated and generally will be posted if they are on-topic and not abusive.
For more information, please see our Comments FAQ