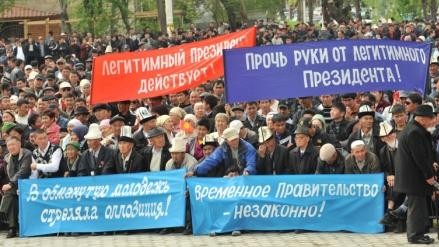 ---
JALALABAD: Thousands of supporters of Kyrgyzstan's ousted president Kurmanbek Bakiyev Tuesday staged a new rally backing him in his southern stronghold of Jalalabad.

The supporters were waiting for a speech by Bakiyev who made his first public appearance Monday since being toppled in protests that left at least 81 people dead and established an interim government in the capital Bishkek.

Bakiyev has defiantly dismissed the new authorities as "gangsters" and said he will not be intimidated by warnings he faces arrest, insisting he is still president of the country.The standoff has raised fears that ex-Soviet Central Asia's most volatile country faces a prolonged political crisis at a time when the state coffers are virtually empty.

Bakiyev fled the capital on April 7 but still appears to enjoy considerable support in Jalalabad and other towns in the region.
COMMENTS
Comments are moderated and generally will be posted if they are on-topic and not abusive.
For more information, please see our Comments FAQ