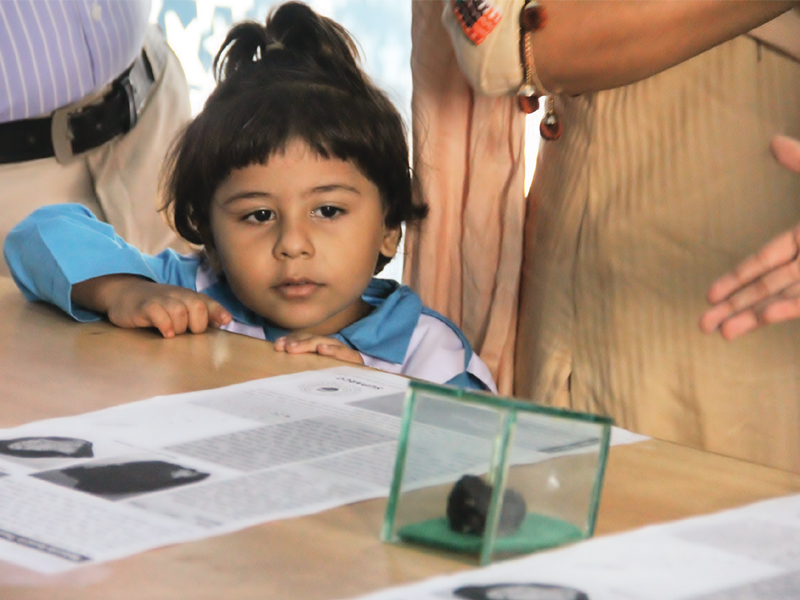 ---
KARACHI:



Students were exposed to an exhilarating experience when they were allowed to see a sky full of stars and planets and study their mysterious movements without any binoculars or telescope.




To raise awareness about space technology, the Space and Upper Atmosphere Research Commission (Suparco) had arranged 'Sky Simulation' shows and lectures during the World Space Week (WSW) 2013 at the PIA Planetarium. The planetarium was offering free sky simulation shows to school students from October 4 - 7.

According to Suparco Observational Astronomy group head, Zain Rahim, over 1,000 students from nine different schools participated in the shows. Rahim said that mostly school students from underprivileged background were invited to experience the world we are living in. "The shows allowed them to see how the world operates and what was happening in its surrounding."




The 35-minutes video played out on the big dome-shaped screen showed computer-generated images of the solar system with a narration, offering a thrilling experience to the students.

"It was an exhilarating experience for me. I will tell my family members about it as soon as I reach home," said Sana, a class eight student.

Health Oriented Preventive Education (Hope) Education Coordinator Rehana Kamran said, "They might have seen these things on television or read about them in books but the practical experience is always different," adding that natural experiences provide children with what TV can't.

The teachers who accompanied the students were of the view that such extracurricular activities should continue as they were beneficial for students, especially for those from underprivileged backgrounds.

"I felt very nervous when the rocket left for space. I held on to my friend's hand sitting next to me," said 10-year-old Sameer Abro, a student of class two.

A grade eight student, Shireen said, "I loved the sky full of stars. It was a breathtaking view."

The United Nations has declared October 4-10 as the WSW. It is being celebrated in 11 cities of Pakistan. Suparco, a national space agency, has been regularly conducting space activities every year since 2005.

The WSW, an international celebration for the contribution of space sciences and technology towards the betterment of human conditions, has been marked in Karachi and other major cities, said a Suparco official. "The show is aimed at providing information and exciting experiences to the children."

Following the show, the students were given an opportunity to look at a 'meteorite' discovered in Tharparkar in 2012.

Published in The Express Tribune, October 8th, 2013.
COMMENTS
Comments are moderated and generally will be posted if they are on-topic and not abusive.
For more information, please see our Comments FAQ