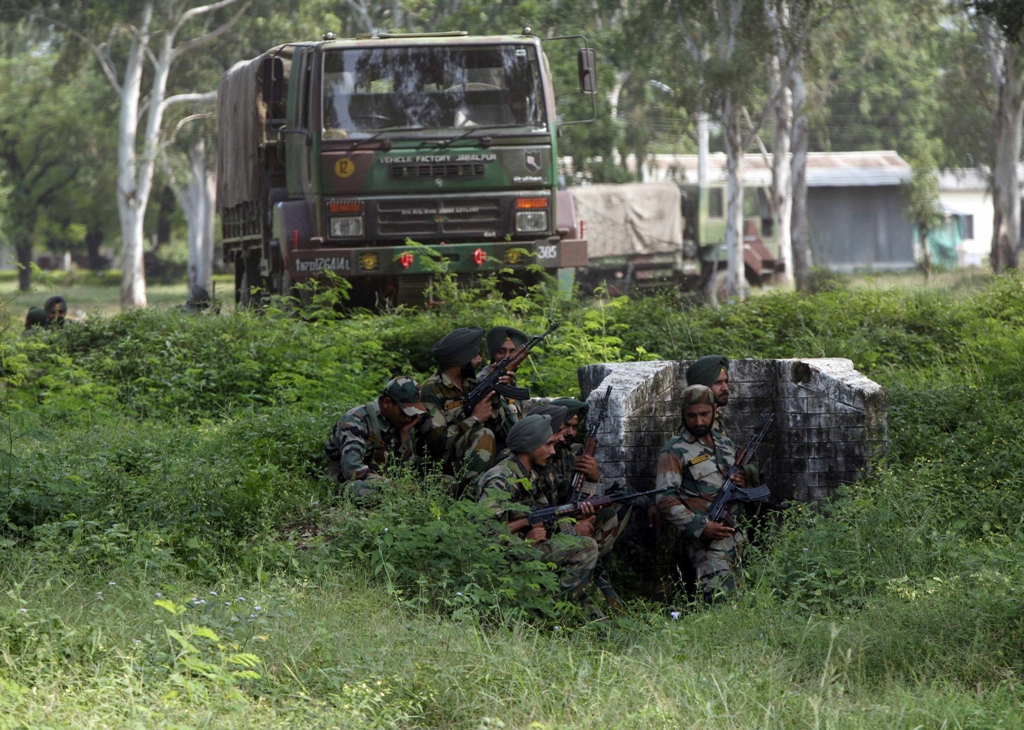 ---
SRINAGAR: Militants disguised as soldiers killed seven people in an attack on a police base in Indian Kashmir on Thursday, police said.

The militants, all wearing army fatigues, lobbed grenades and opened fire at the Hiranagar police station, around 200 kilometres from Srinagar, an officer in the police control room said.

"We can confirm that five policemen and two civilians have been killed in the attack," the officer told AFP.

The attackers then escaped after hijacking a truck and were now engaged in a fierce gun battle with Indian troops in Samba district of the region near the border with Pakistan, the NDTV news network and other local media reported.

Five security men have been injured in the ongoing gun battle at an army base, a senior police official said, with TV footage showing wounded soldiers being dragged away to safety.

"Four soldiers and a sentry have received injuries in the attack on army camp. We are trying to ascertain more details," police Director General Ashok Prasad told AFP.

Prasad said a separate group of militants could be taking part in the ongoing battle, and it was unclear how many militants in total were involved.

"Militants came from Pakistan"

The militants had crossed the border from Pakistan the previous day, Indian Kashmir Chief Minister Omar Abdullah claimed.

Omar Abdullah told reporters that the raid appeared designed to upset plans for a meeting in New York this week between Indian Prime Minister Manmohan Singh and Prime Minister Nawaz Sharif.

"Given the history, timing and location, the aim is to derail the proposed meeting between Prime Minister Manmohan Singh and his Pakistani counterpart," Abdullah said. "There are forces that are inimical to peace and want to derail any peace process."
COMMENTS (24)
Comments are moderated and generally will be posted if they are on-topic and not abusive.
For more information, please see our Comments FAQ