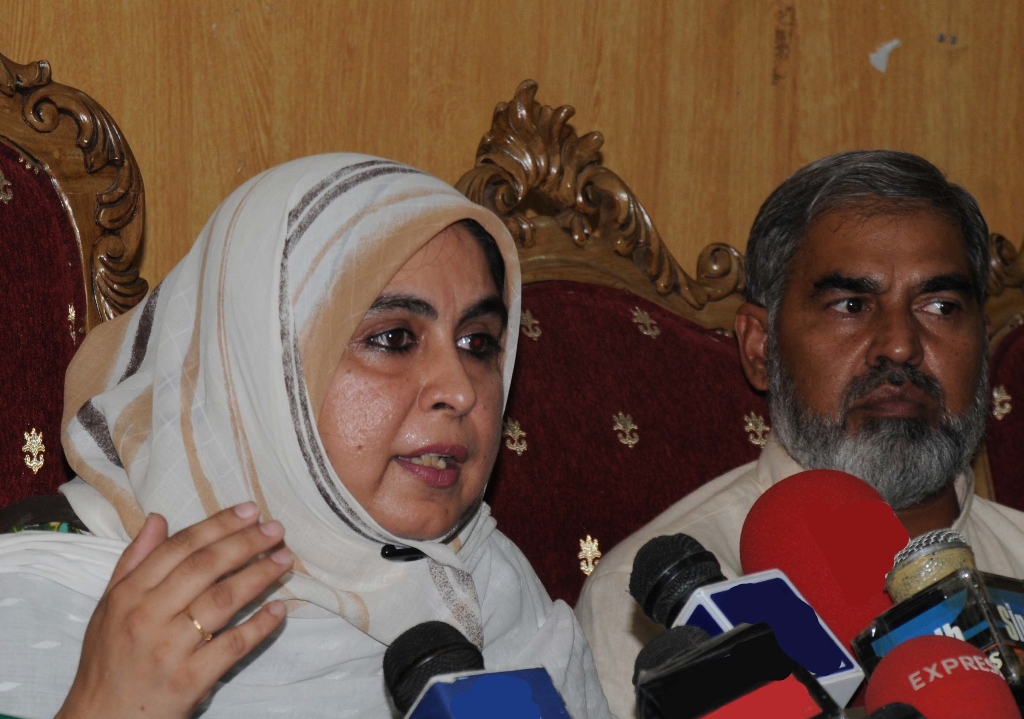 ---
ISLAMABAD:



A two-member bench of the Supreme Court issued notices to top military and civilian officials, including General (retd) Pervez Musharraf in the Masood Janjua disappearance case hearing on the plea of Amina Janjua. The notices were issued following the submission of a fake affidavit in the apex court.




The bench comprising Justice Jawwad S Khawaja and Justice Sheikh Azmat Saeed declared Lt Gen Nusrat Naeem's statement that Janjua was killed as false and not viable, and ordered release of Masood Janjua and Faisal Faraz.

Lt Gen Nusrat Naeem has, however, been exempted from being cross-examined from the proceedings of the missing persons' case since he had already been quizzed by the Commission of Inquiry for Enforced Disappearance.




Amina, wife of Masood Janjua, expressed displeasure over exemption of Lt Gen Naeem in the case and told the bench that she had no faith in the government-constituted commission that had cross examined Naeem earlier. She suggested the platform of a high court or district court for the purpose. The list of officials, who were issued notices, was asked by the SC to submit their statements under oath so the case may be forwarded for cross examination.

Amina Janjua told the court that there are contradictions in the statements made by top military officials. She stated that her father-in-law received a call from Musharraf's military secretary, Lt Gen Shafqaat Ahmed on May 31, 2006, informing them that Janjua was still alive. On the other hand, Naeem, the then ISI DG stated that in 2006 Janjua was murdered by al-Qaeda in the tribal areas of the country.

The chief justice could not reach the Supreme Court to hear this case today due to blockage of roads. The bench listed all the missing persons' cases pending in the SC with its human rights cell.

Published in The Express Tribune, September 24th, 2013.
COMMENTS
Comments are moderated and generally will be posted if they are on-topic and not abusive.
For more information, please see our Comments FAQ