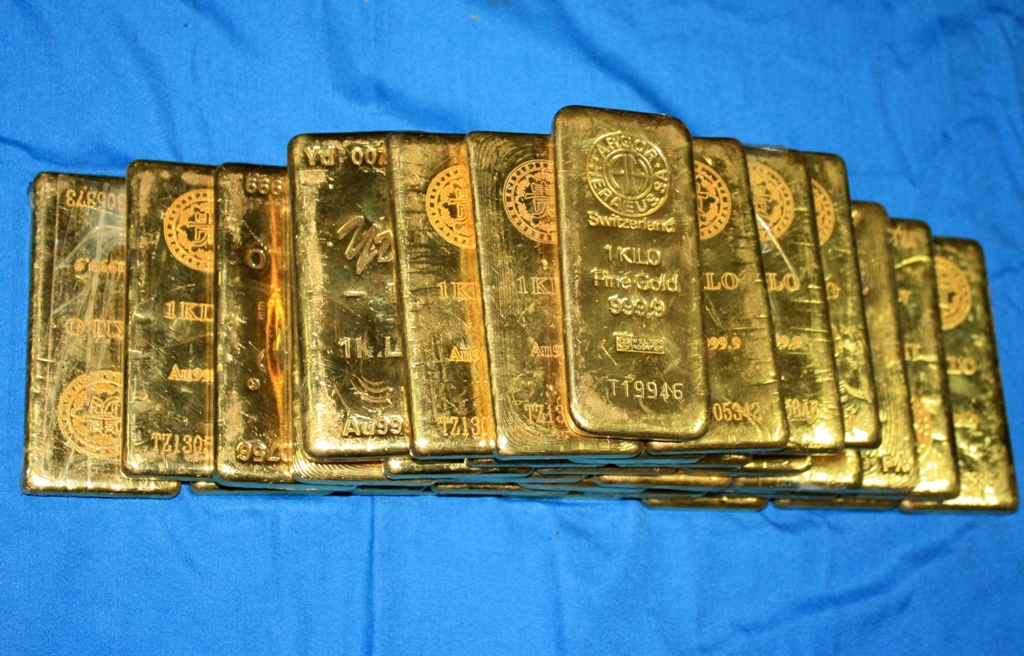 ---
KATHMANDU: After a long drive from across the border in China, the white truck arrived in Nepal's capital at dawn with a seemingly innocuous cargo of Chinese-made clothes.

But hidden in a cylinder inside the vehicle's front bumper was the latest haul of gold smuggled from Tibet. Bars weighing some 35 kilogrammes and worth several million dollars on the black market.

Nepal's police were waiting for the truck and its 24-year-old driver just inside the city, after tracking them for several days along the highway that connects Nepal with China.

"We had been informed from our reliable source that a consignment of gold was on its way from Khasa(a border town in Tibet)," Uttam Kumar Karkee, a senior superintendent, who led the operation in July told AFP.

Nepal's police and Inland Revenue department say the illegal shipment was ultimately destined for neighbouring India, where seizures of smuggled gold, including from its closest neighbours, have reportedly soared this year.

The seizures in India coincide with the government's campaign in recent months to deter legal imports of the precious metal, including by hiking import duties.

Under pressure over a faltering economy, the government is trying to break that country's obsession with gold. Imported in vast quantities, it is partly blamed for blowing out the current account deficit and pushing down the rupee to record lows.

In Nepal, police have seized far more illegal shipments bound for India this year compared with 2012. Its organised crime unit cannot say whether Indian consumers and traders are turning to the cross border black market as a direct result of efforts to discourage legal imports.

But making it harder and more expensive to import gold certainly presents smugglers with opportunities.

"There is a growing demand for gold in India. So the smugglers are cashing in on that, "said Anand Raj Dhakal, the department's deputy director general.

A total of 69 kilogrammes of smuggled gold was seized in Nepal in the last six months, most of it from Tibet, compared with 18 kilogrammes for all of 2012. But that's only the tip of the iceberg, says Nepal Police spokesman Nawaraj Silwal, who estimates only 10 percent of all smuggled gold is confiscated.

The seizure in July, which led to the arrest of several Kathmandu businessmen, came hot on the heels of another police bust in mid-May. Four men were arrested on Kathmandu's outskirts, each with four bars of gold (16 kilograms in total) in the soles of their shoes. This stash was also bound for India, according to police deputy superintendent Chakra Bahadur Singh.

In a typical smuggling run, trucks transport the hidden gold overland from Tibet into Kathmandu, where the stash is shifted to freight trucks that ply the roads between Nepal and India, says Silwal, who singles out the Indian border town of Raxaul as a smuggling hub.

"The gold smugglers and peddlers use land routes with Nepal due to the open border with India," Silwal told AFP.

"Now, the gold mostly comes (overland) from China after we tightened security at Kathmandu's airport," he said.

"There is a huge demand for gold in India. We have learned that Indian men and women travel to the Nepalese border towns to buy gold when prices are cheaper in Nepal," he added.

Some of it is probably bound for the Nepal market, where demand peaks during the local wedding season and Hindu festivals of Dashain and Tihar, according to gold traders.

"It (smuggled gold) might be destined for Nepal rather than India because our country too doesn't have sufficient gold especially during wedding seasons when the demand grows," said Mani Ratna Shakya, president of the Nepal Gold and Silver Dealers' Association.

But demand in India far outstrips tiny Nepal. India is the world's biggest consumer of gold, followed closely by China. Millions of Indians buy gold in the form of jewellery, bars and coins as a traditional gift for brides and during Hindu festivals.

For many, gold is also a hedge against inflation, as it is traditionally regarded as an asset that is expected to maintain or increase its value.

Almost all of India's gold is imported, making it the second-biggest contributor after oil to the current account deficit the broadest measure of trade. The widening deficit has caused alarm among ratings agencies and contributed to India's slowing economic growth.

India must sell rupees to buy the gold in largely dollar-denominated trades, which is putting downward pressure on the ailing local currency, the worst performing in Asia this year.

The government, desperate to kickstart the economy ahead of elections due next year, has announced a series of measures, including raising duties on bullion imports in August to a record 10 percent, the third hike this year.

Even with the duty increases, gold imports in July rose to $2.9 billion from $2.45 billion a month earlier, although the amount is still down from last year.

Smugglers say such an insatiable demand keeps them busy. One arrested near the Nepal China border last December reportedly boasted to police that it was the fourth time in three months he had smuggled gold into the Himalayan nation.

According to The Kathmandu Post, he was arrested in Dhulikhel, a resort town 30 kilometres north of Kathmandu that lies along the border highway, with nine kilogrammes of gold in his truck.
COMMENTS (2)
Comments are moderated and generally will be posted if they are on-topic and not abusive.
For more information, please see our Comments FAQ