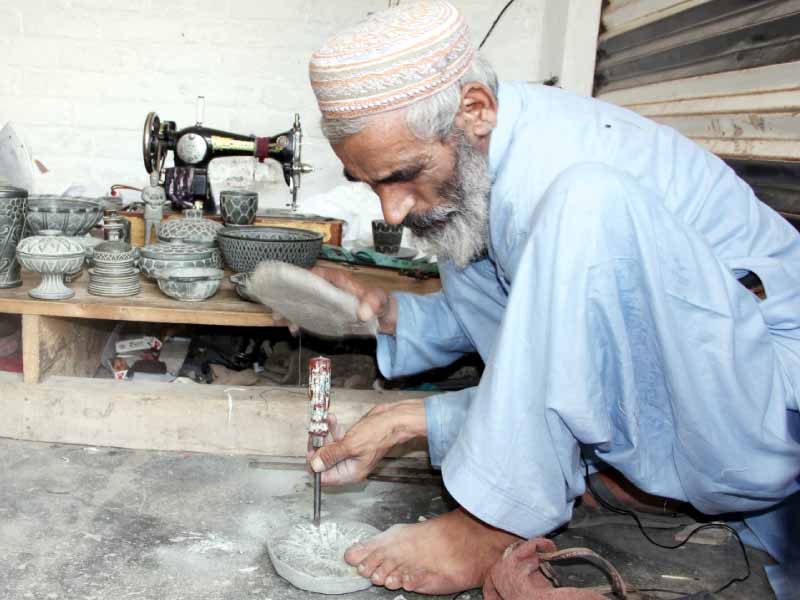 ---
MINGORA:



"People often mock me when they see me carrying a rock to a quiet place so I can carve," says Ramzan, his eyes lighting up as he talks about his passion, his life. "But I don't care. I am addicted to this art and cannot leave it."




Ramzan is no ordinary man – painstakingly, deliberately, he creates skillful amalgamations of modern and ancient art. And yet, pursuing this passion has not been easy. Clad in shabby clothes, utensils in hand, the 45-year-old looks close to 60 and works as a tailor to make ends meet.

A road less travelled

Ramzan knows he has come a long way in his journey of replicating the beautiful Gandhara art onto rocks. This is a dream he has been chasing since he was a child.

"When I was a child, I got inspiration from the floral artifacts found in archaeological sites of Gumbat Maira. I would visit these sites and would chance upon statues or floral pieces I would instantly love," he explains. "Eventually, greatly inspired by this unique art, I started to copy it on rocks found at those very sites."




True realisation of self

His works are intricate, completed with great care. It is hard to believe that this artist has not received training of any sort – the rock carvings from archaeological remains have served as his only inspiration.

At first, Ramzan was fearful of displaying his work, afraid that he would be termed an infidel or non-Muslim. However, his talent soon shone through.

"When people actually saw my work, they fell in love with it," he says gleefully, pride evident in his tone. "They would not believe I had done it myself until I would carve in front of them."

Thus, these positive reactions helped him understand the worth of the masterpieces he creates, as he was not educated enough to realize their historical importance.




Shunning opposition, striding ahead

Although Ramzan works as a tailor to earn a living, he is never far from his craft and uses his shop as his workshop, as well.

Ironically, his family members think he is wasting time with rocks and can earn more if he lets go of this pursuit.

For this reason, he is forced to sell his creations, even though he is deeply hesitant to part with any of them.

"I sell my work for low prices so that I earn money to fulfill my family's needs," he says, adding that a left-arm childhood injury has rendered him incapable of doing other types of jobs as he cannot lift heavy weights. "I love what I make and do not want to sell it."

In search of patronage

To escape his worries of poverty, Ramzan often visits an ancient mud-cave to seek peace in solitude. The fear that his troubles may hinder his artistic aspirations tugs at his heart incessantly.

What he wants, he says, is to produce these artifacts on a larger scale, and to train others so that the skill does not fade away when he does. However, this is only possible if he is given some sort of assistance, and so far, no governmental or non governmental organization has assisted him financially to enable him to establish a workshop of his own.

"I only have the money I earn from tailoring to take care of my family and spend on my art," says the artist. "To be able to carve, I have to cut short my tailoring time, which lowers my earnings. I want to, I have to, create more."

Published in The Express Tribune, August 25th, 2013.
………………………………………………………………………………………………………………………………………



………………………………………………………………………………………………………………………………………