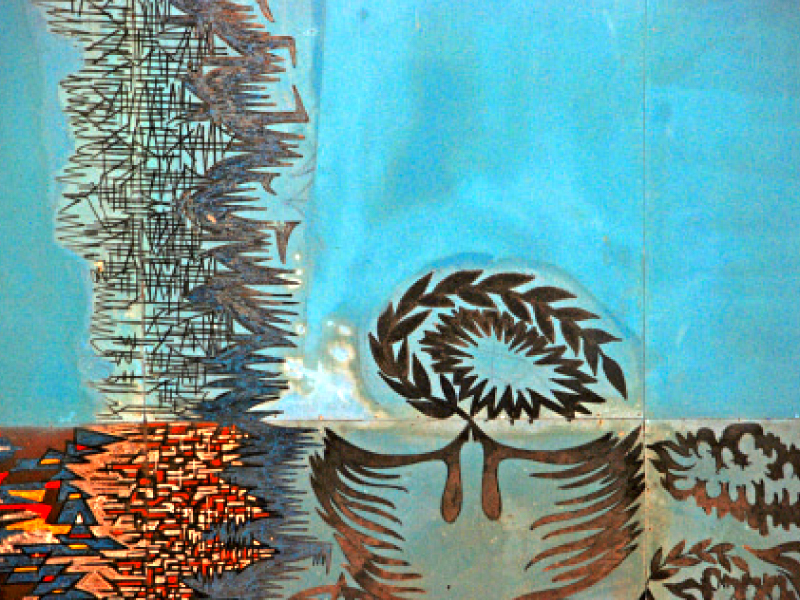 ---
KARACHI:



The recent rains in the city managed to seep through the roof of Frere Hall where Sadequain's famous mural now gives several different shades of blue and white.




The Express Tribune has learnt that there is little to no expertise available in the city to fix the famous artist's incomplete work, which he started painting in 1986 and was working on it until his death on February 10, 1987.

"There is no one in Pakistan to restore Sadequain's mural," admitted Durriya Kazi, the head of the visual arts department at Karachi University. She suggested two options: inviting experts from abroad to come and restore his work, or send artists from here to get training from abroad on how to restore art pieces.

"In Pakistan, artists usually do touch-ups, which is scrapping off paint and then redoing it," she explained, regretting that there is a gap in Pakistan in terms of art restoration. "We need to do something about this. We need resources, such as labs and chemicals, to start restoration work."

Architect Yasmeen Lari, who is the CEO of Heritage Foundation also suggested that, "We need a mural specialist to assess the damage done to Sadequain's mural." Apart from the invaluable artwork ruined due to seepage, the building that houses the artwork is also in desperate need of renovation.

"There is a need to protect the building first, even if it is on a temporary basis," she said. The roof should be covered and the sewage water needs to be disconnected to make sure no more water seeps in, she pointed out. "We have to realise it is an enormous structure and we need protective measures to conserve this building for future generations."

Facelift for Frere Hall

Lari admitted the authorities are interested in conserving this heritage structure but, she said, they get sidetracked. To resolve this, there should be public accountability of money allocated for such expenditures, she stressed.

The roof is the most vulnerable part and it should be covered with a tarpaulin before it is opened for renovations, she said, adding that the holes can be plugged in with mud and lime on a temporary basis. "If we protect the inner and outer ceiling, then the mural restoration and conservation can happen." Lari pointed out that the building is constructed extremely well and there is only side seepage on the walls. The timber and woodwork are in a good condition, she said.

Govt steps in

Five months ago, the government set up a conservation committee - comprising Hameed Haroon, Durriya Kazi, Yasmin Lari and others - to advise the government on how to carry out restoration.

The Karachi Metropolitan Corporation (KMC) is doing property restoration, which includes the grounds and Edulgee Dinshaw Fountain, while the Sindh culture department is taking care of Frere Hall, explained KMC media management director Ali Hassan Sajid. "The KMC has assigned Rs20 million for the grounds, pathways, outer fences and fountain restoration," he said, adding that restoration work started in June this year.

According to the antiquities' department additional secretary, Asjad Mahmood, their department started the conservation of Frere Hall in 2010. Based on the original scheme, the overall area of 90,784 square feet would be restored, which included the library hall, fine arts gallery, and seven rooms. This project was estimated to cost nearly Rs54 million. In the next three years till June 30 this year, the department had already spent Rs28 million to conserve parts of the building.

Now, the department has estimated that the conservation would cost a lot more as the conservationists are adamant to restore the original copper roofing with copper sheets - that alone will cost Rs200 million. The new plan was submitted this year and the department is now waiting for the planning committee to approve a new budget of Rs506 million, said Mahmood. For now, renovation has halted.

Published in The Express Tribune, August 25th, 2013.