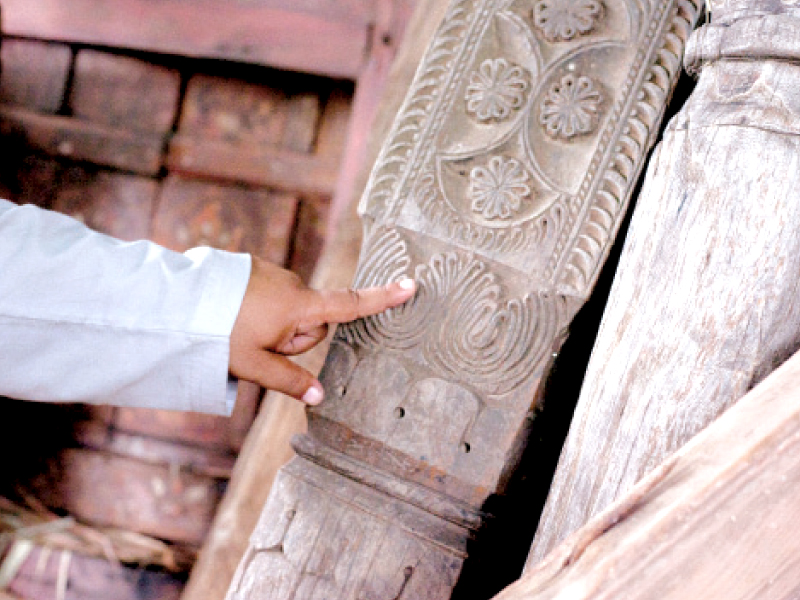 ---
ISLAMABAD:



Piles of wooden columns, once an exquisite feature in traditional houses across Pakistan, lie clustered in a dusty backyard of a handicrafts shop in Islamabad. With diminishing interest for these antique pieces in the market, most of the wooden pieces of marvel are being used as firewood in the Northern Areas of the country.  




The molds and carvings on these wooden columns in fact define eras of different civilisations.

Running his fingers through the delicate carvings, Hasan Ali, the shop's owner, reminisces that the collection of columns would come in from various parts of the country, especially Punjab and the Northern Areas. "One can view changing times by carefully observing the quality of wood and examining the carvings on it," he explained, adding that there were columns from British colonial times and the Mughal era to those from affluent Hindu and Sikh households with superb use of craft that is reflected on the patterns made on them.

Ali recalls, "Whatever the craftsmen of those times saw around them, they replicated on these columns which formed an integral part of people's houses at the time. Thus, it was all a work of their imagination."

The columns made today are replicas of original pieces with their light weight and 'modern' carvings that do not have a tinge of history in them, claims Ali. Working as a tour guide for several years, Ali used to travel all over Pakistan to collect original columns, however, for the past few years he stopped travelling owing to the precarious law and order situation.

Around ten pieces, several centuries old, are now decorated outside Ali's shop in a desperate bid for a miracle sale. Recalling the golden days, he says there was a time, around 10 to 15 years ago, when these columns were very popular among the capital's foreigners.

But with time, both the demand and supply have diminished, he says.

As a result, in recent times, most of the centuries old wooden columns are now being used as building material or firewood in the mountainous areas.

A foreigner, residing in the capital, whose art collection flaunts a wooden column she terms as her 'best buy' in Pakistan so far, said it is imperative to collect such artwork as it is a means of preserving history. "Hundreds of columns are being burnt everyday, the ones that are bought are the ones being saved" she said.

Qasim Ali, a descendant of the Mir of Nagar, said the lack of education regarding preservation of antiques is a serious issue in Pakistan unlike the rest of the world. Ali blames the government more than the people, saying "The poor folk living in the mountains will burn whatever sort of wood they can find to keep their homes warm. It is the government's job to provide them with an alternative". The people need to be made aware of the importance of a piece of wood that is several hundred years old, he says.

Architect Saad Kureshi told The Express Tribune that columns are now part of a dying art in Pakistan and there is no one to blame but the government as it has failed to protect its heritage. "We have to realise our treasures and preserve them in museums as the rest of the world does rather than seeing them burn to ashes," says Kureshi.

Regarding emerging designing trends, Kureshi said architecture is evolving and thus needs to be carefully preserved. "The carvings and scriptures found on many of these columns define history" he said.

If one wants to buy an old wooden column now, it would cost anywhere between Rs15,000 to Rs80,000, but Ali is willing to negotiate the price in the buyer's favour now as due to dwindling sales, he just wants to clear the pieces rotting in his store's backyard.

Published in The Express Tribune, August 25th, 2013.