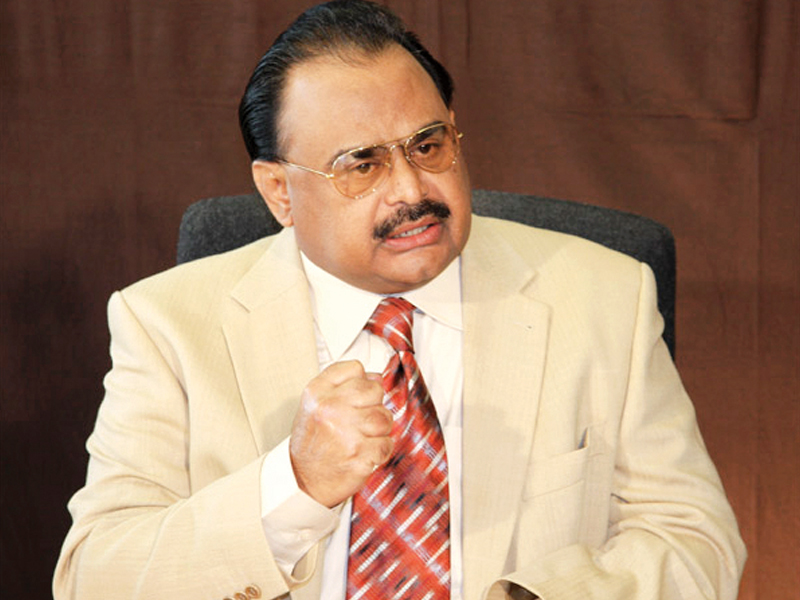 ---
MIRPURKHAS/ HYDERABAD: In what could be a telling statement, Muttahida Qaumi Movement (MQM) chief Altaf Hussain in an audio address on Saturday advised his followers, sympathisers and party workers to remain "committed and determined" in the event he is arrested, and insisted that he was innocent.

According to a release from the MQM, Altaf addressed office bearers and workers at zonal offices in Mirpurkhas and Hyderabad through a telephonic address.

During the address, the MQM chief said that while he was physically away from Pakistan, "spiritually he has always remained amongst his people".

"Sometimes a leader struggling for the rights of oppressed people and following his mission is imprisoned in his own city, thus being compelled to stay physically away from his people," the statement read.

Altaf gave the examples from his personal struggle that he faced difficult, and on occasion testing times, with false and fabricated cases, imprisonment, but he never compromised on his principles and beliefs. He added that in time he was vindicated and that "arrests, false cases and difficulties of imprisonment are part of the struggle."

The statement added that "even if the British Police arrests him [Altaf], party members and supporters must remain committed and determined as their leader is innocent and is not afraid of confinement or any other action."

MQM above ethno-linguistic divides

Altaf's address came ahead of the by-elections stipulated for August 22.

The MQM chief stressed that his party is not against any ethno-linguistic group or community – and respects the rights of all. He highlighted that in the past a Sindhi speaking MQM candidate had been elected into the parliament from the Urdu-speaking dominated Azizabad in Karachi and now a Baloch has been elected from the same area which, Altaf claimed, demonstrates that the MQM is not against anyone.

Altaf took the opportunity to make a swipe at Sindh based nationalist parties claiming that leaders of such parties merely raise slogans of Sindh dharti (motherland) to show their love for Sindhis.

Addressing the people of Hyderabad and Mirpurkhas, MQM's chief said that that if they support the MQM, then they must consider themselves to be part of one community. And being part of the community they must unite for attaining their usurped rights.

Poll rigging

Altaf claimed that massive rigging had taken place in the previous election, especially in the rural areas.

He claimed that Mirpurkhas was a stronghold of the MQM, but in previous elections armed persons had occupied polling stations situated in rural areas. He claimed that these armed persons had thrown out polling staff from these polling stations to cast bogus votes in large numbers.

The MQM chief demanded that the Election Commission and the government ensure free and fair elections in Mirpurkhas.