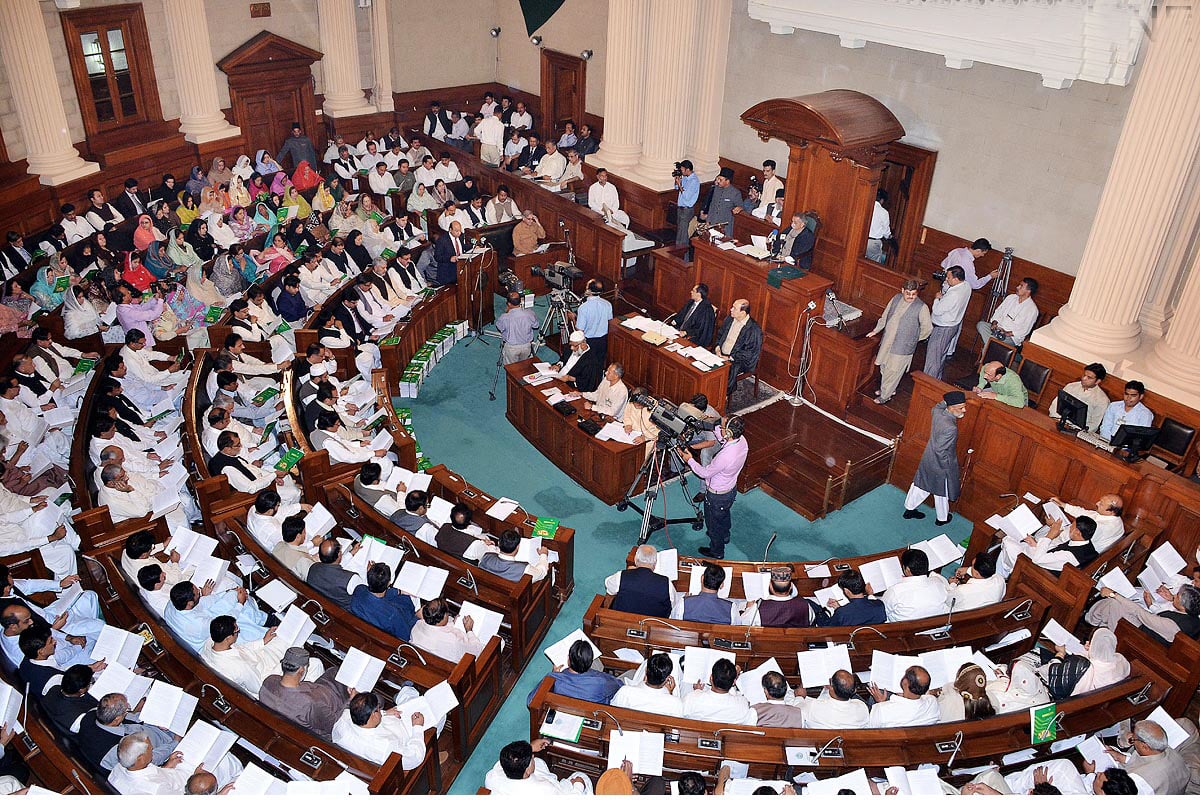 ---
LAHORE: The Punjab Assembly, in the first session after Eid, which saw a number of incidents along the Line of Control, passed a resolution by unanimous vote on Monday which condemned India for violating international laws and allegedly killing people near the Line of Control.

The house not only condemned India's aggression on the border, but also demanded to raise the issue in the international community.

In another unanimously passed resolution, the house condemned the suicide attacks in Quetta, where at least 30 people including DIG Operation Quetta Fayyaz Sumbal were killed.

More time sought on local government 

Earlier, the Punjab Assembly (PA) started its session with a general discussion on the Punjab Local Government (PLG) Bill 2013 during which the opposition offered support to the treasury bench on their reservations, which were then incorporated into the proposed bill.

A special committee on the bill had completed its work and the report would be presented in the house on August 15, Punjab Law and Local Government Minister Rana Sanaullah said.

Sanaullah said that they would try to finish the debate and pass the PLG 2013 Bill by the August 15 deadline set by the Supreme Court (SC). However, if the court granted them more time, Sanaullah said they would take a maximum of three days from August 15 to wrap up a more comprehensive debate on the bill.

The local government minister added that while the Election Commission and the government could hold the local bodies elections by the prescribed September date, it would have to be without delimitation, adding that it will take them at least three months to complete delimitation of constituencies.

Sanaullah added that if the court allows them, they were willing to hold the local government elections in December.

Opposition members who had boycotted the proceedings of the 12 member special committee that deliberated the proposed bill for seven days, approved all its clauses with minor amendments.

Pakistan Tehrik-e-Insaf (PTI) member Saddique Khan said that in the local government ordinance of 2001, powers were devolved at the gross root level with 11 Executive District Officers who performed well. In contrast, powers had been kept centralised in the proposed PLG Bill 2013.

Khan reiterated that PLG Bill 2013 was against the spirit of article 140 A and article 32 of the constitution, and could easily be challenged in court. The opposition member added that only municipal services were given to the elected representatives of the local government while all other administrative, financial and authority responsibilities have been kept with the bureaucracy.

Meanwhile, the Pakistan Peoples Party's Shahabuddin Khan presented two amendments in the proposed bill. He called for the bill to be made in accordance with Article 140A of the Constitution and the Charter of Demands which calls for the local body elections to be per political basis.

The house adjourned till Tuesday morning.
COMMENTS (8)
Comments are moderated and generally will be posted if they are on-topic and not abusive.
For more information, please see our Comments FAQ