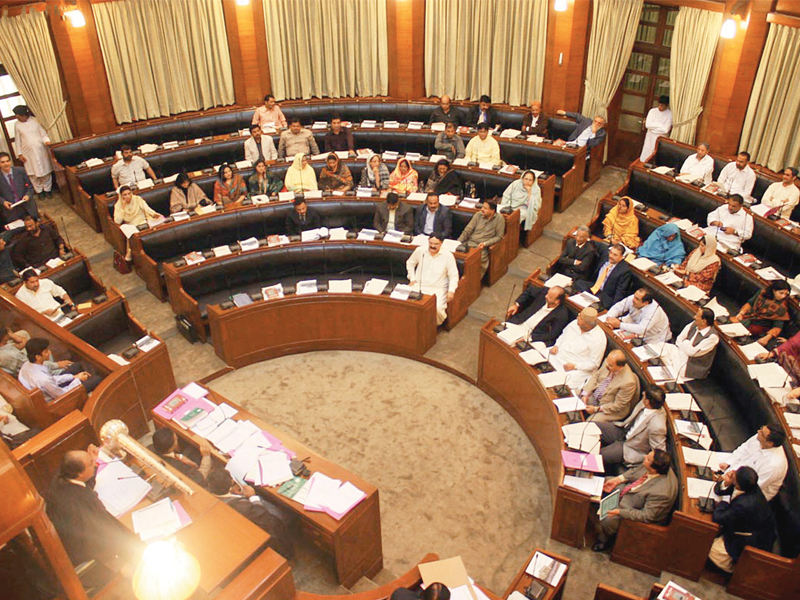 ---
KARACHI: The Sindh government on Monday finalised a draft of the proposed local government law and suggested that Karachi may be given the status of Metropolitan Corporation.

A bill was presented at the cabinet meeting on Monday. The draft bill will be made public once the provincial government has received input from various political parties and stakeholders.

It was proposed that Karachi would be divided in five district municipal corporations (DMCs) while one district council would be formed which would comprise of the sub-urban areas of the city.

The draft states that DMCs will also be set up in Hyderabad, Sukkur, Mirpurkhas and Larkana.

Moreover, town and municipal committees are to be formed in rest of the districts to manage local government affairs.

The bill also proposes that the elections will be held on party basis.

Sindh Information Minister Sharjeel Inam Memon said that committees formed by the provincial government on local government legislation would seek suggestions from various parties.

He added that under the law, the elected representatives will have more powers than the bureaucrats.

Witness Protection Act

The Sindh information minister said that the cabinet also approved the draft of "witness protection bill" and added that action will be taken against those involved in the trade of toxic liquor.

Political parties respond

Muttahida Qaumi Movement (MQM) decided to oppose the local government system to be presented in the Sindh Assembly. The MQM has voiced support for the Sindh Peoples Local Government Act that was passed in September last year. It has been in favour of the 2001-style local government act that created union councils.

The Pakistan Muslim League-Nawaz(PML-N) and Pakistan Muslim League-Functional (PML-F) have alos been invited by the provincial government to offer their suggestions on the bill.

Imtiaz Shaikh of PML-F said that unless the Sindh government forwarded them the draft of the proposed law, they would not offer any suggestions.

Pakistan Tehreek-e-Insaf (PTI)'s member Syed Hafeezuddin said that they wanted a uniform system which was acceptable to all stakeholders.
COMMENTS (6)
Comments are moderated and generally will be posted if they are on-topic and not abusive.
For more information, please see our Comments FAQ