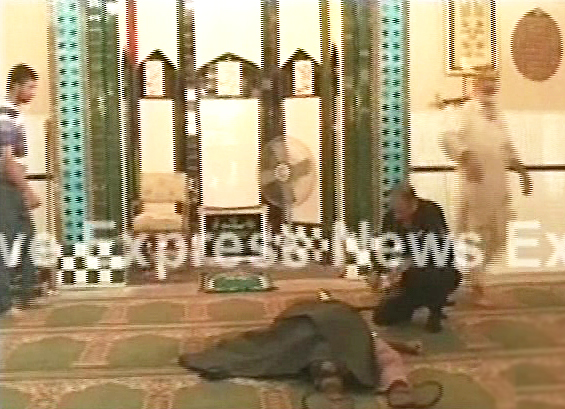 ---
ISLAMABAD: Despite 'heavy deployment' of security personnel for Eid, a suicide bomber successfully entered a mosque in Islamabad but failed to explode before being gunned down, Express News reported on Friday.

The suspect entered the Jamia Mosque Ali Ibn-e-Abi Talib while prayers were in progress.

CCTV footage shows that the assailant was walking on a path that leads to the mosque from Attal Chowk. As he neared the mosque, he took out a pistol and started firing, forcing people to flee the area. The bomber then ran through the narrow streets leading up to the mosque while brandishing the weapon.

Express News correspondent Qamarul Munawar said that according to eye witnesses when the bomber took out the pistol he started firing, which sent people scrambling for cover.

____________________________________________________________



____________________________________________________________

Munawar added that at least three security guards had tried to intercept the bomber. The attacker though shot the security guard in the abdomen. A second guard who tried to intercept him was also injured.

A third guard in the mosque had taken up his position and when the bomber entered the mosque, he shot him. However, the bomber also managed to fatally wound the security guard.

Initial reports suggest the bomber got into a scuffle with the guard, shooting him when he was denied entrance to the main hall of the mosque.

The Bomb Disposal Squad defused the jacket. DIG Security added that they had found at least 500 grams of explosives and ball bearings in the suicide jacket.

SSP Islamabad Dr Rizwan has also suspended six officials including the SHO of Barakahu Abid Hussain and a probe has started into the matter. Munawar added that no police officer was present at the time of the attack.

A search operation has also been launched to find two suspected accomplices of the bomber.


Screengrab of the suicide bomber inside the mosque.
Screengrab of wiring taped to the arm of the suicide bomber.

Local residents gathered in front of the mosque and led a protest against the police for their failure to prevent the bomber from entering the mosque, and for failing to respond to emergency calls in a timely manner.

"The police were called in time but they were unable to take prompt action," reported Express News' correspondent.

Ulema of the Shia community, which has an Imambargah adjacent to the mosque, have asked the DC Islamabad to allot them licences for weapons so that they may make their own arrangements for security.

The mosque is located in the residential area of Barakahu, a short distance from the capital's secure Red Zone.

Munawar added that initially there was some discord between the police, the local administration and the mosque's administration on whether the bomber's body should be moved. However, the body was later shifted to PIMS hospital.