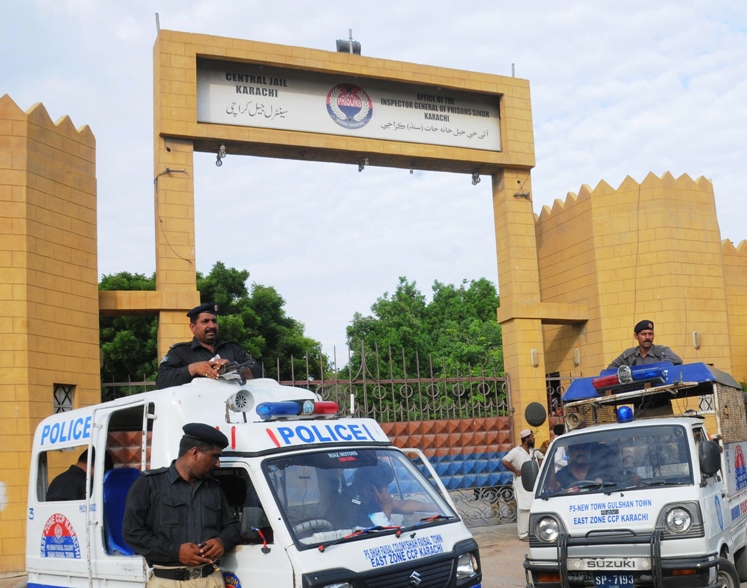 ---
KARACHI: The Karachi Central Jail has temporarily shut its doors to relatives of the inmates who wished to meet their family on the auspicious occasion of Eidul Fitr, citing security concerns.

The jail authorities have also banned the meeting of families with their loved ones imprisoned in jails in entire province. Deputy superintendent of jails, Nazeer Shah, told The Express Tribune that the decision was taken by the authorities following the serious threats of terrorism. "The families will be able to meet their imprisoned loved one on Monday," he said. "We cannot take any risk, especially during the Eid holidays and we have deployed additional contingents of law enforcers around the jail premises to avoid any possible attacks."




Meanwhile, as many as 28,000 law enforcers have been deployed on the city's main roads, inner streets as well as Eidgahs where Eid prayers will be offered. The extraordinary security measures were taken following the strong threats of terrorism to disrupt the peace by the terrorist outfits during the Eid days. More than 23,000 police personnel, including officials of the Sindh Reserve Police, Rapid Response Forces and personnel of the Crime Investigation Department will perform duties on Eid days to avoid any untoward incidents. Snap checking and patrolling has also been enhanced in the metropolis and the entry-exit points of the city.

Sindh IGP Shahid Nadeem Baloch directed that the intelligence-sharing-network must be improved with the cooperation of law enforcement agencies to counter well before time the activities of terrorists and criminals. He directed the DIGs to ensure the proper deployment of police forces at Masajids, Imambargahs and Eidgahs where Eid prayers will be offered. Besides the 23,000 police personnel, there are around 5,000 Rangers who will also work along with the police to perform security duties.

Published in The Express Tribune, August 9th, 2013.
COMMENTS
Comments are moderated and generally will be posted if they are on-topic and not abusive.
For more information, please see our Comments FAQ