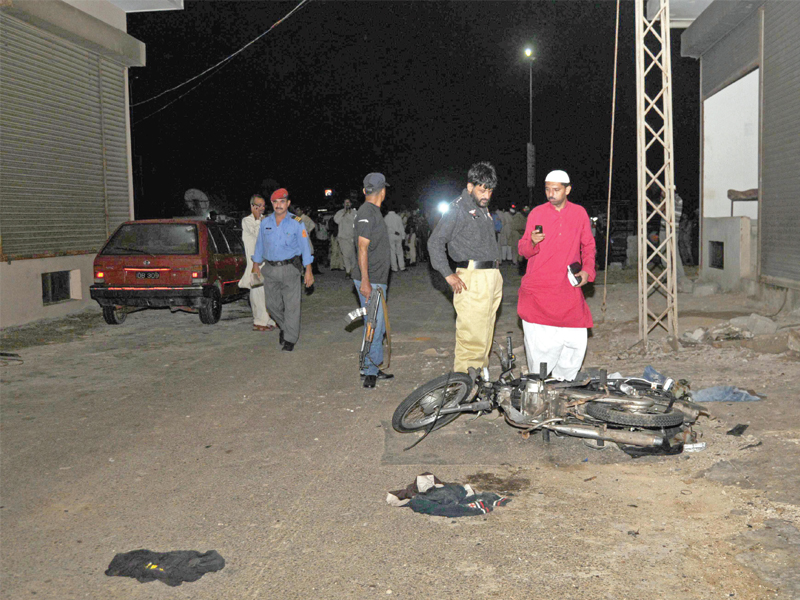 ---
KARACHI: The city was spellbound in panic as a series of coordinated bomb attacks targeted four wine shops within an hour on Tuesday night.

The police that were deployed on sites after the attacks investigated that the suspects were part of the same group that carried out the attacks, however, the forces remain clueless about tracing the group.

The wine shops that were attacked were located on Khayaban-e-Muslim, Khayaban-e-Rahat and Saba Commercial in DHA, and near Moti Mehal in Gulshan-e-Iqbal.




The police registered four cases on behalf of the state separately at three different police stations including Darakhshan, Gizri and Gulshan-e-Iqbal on Wednesday. The cases were registered against unidentified persons under  sections of 7 of the Anti-Terrorism Act and 3/4 of the explosive act in the FIRs.

Police officials said that the suspects used locally made time devices, adding that the blasts were carried out to threaten and scare wine shop owners. "It seems that they wanted to terrorise the shop owners to get extortion from them on Eid," said a senior police officer. "Chand raat is a profitable day for the wine shop owners.

Meanwhile, the police officials were trying to contact the owners of the wine shops to further probe into the attacks. "The wine shops were owned by different owners," Darakshan SHO Ahsan Zulfiqar told The Express Tribune dispelling earlier news reports that the same man owned all the shops.

He suspected that these attacks could be linked to extortion, adding that there was no major breakthrough into the probe of attacks. He added that nothing could be said for sure, since the investigation was not in its final stage.

Published in The Express Tribune, August 8th, 2013.