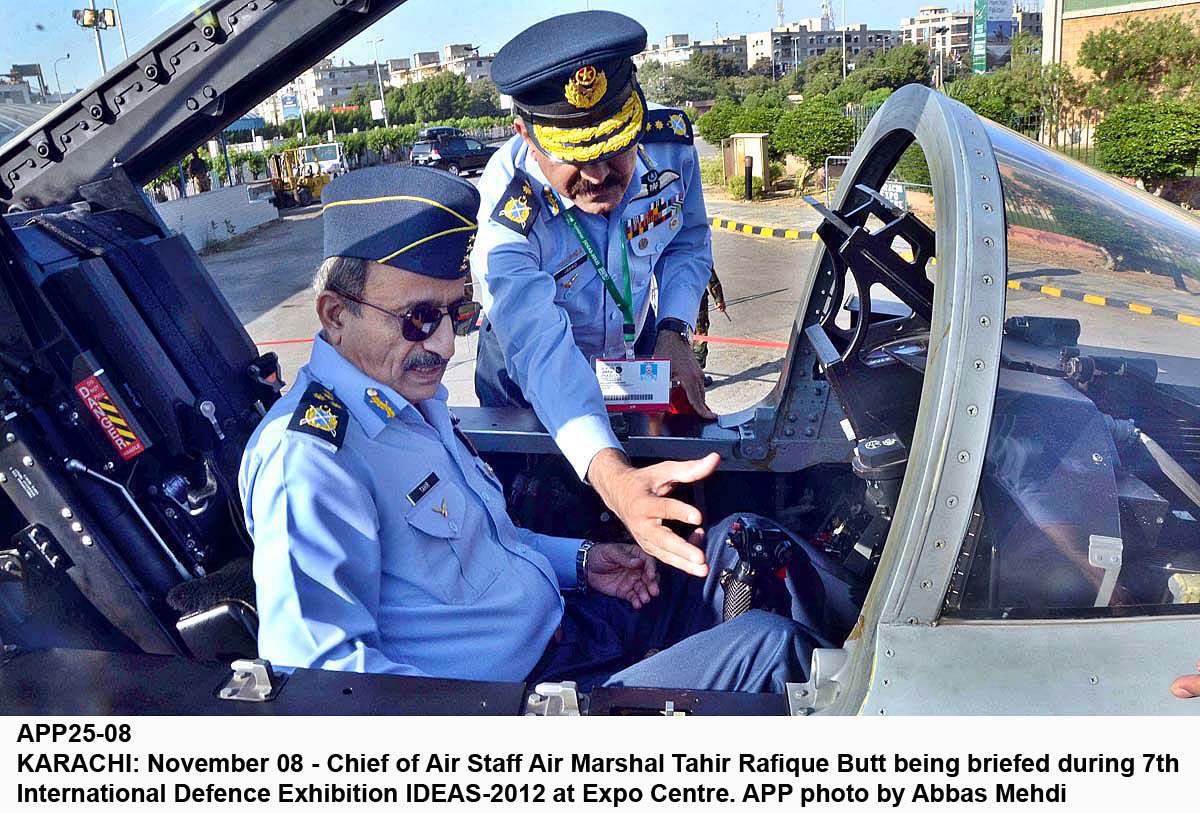 ---
RAWALPINDI: Chief of Air Staff Air Marshall Tahir Rafiq Butt says that the Pakistan Air Force (PAF) must prepare for a two-front situation in view of its combat role in the anti- terrorism campaign, which has evolved since the 9/11 attacks on the US, and in addition to its traditional adversarial role as India's neighbour.

"Airpower can achieve much more in a short span of time if employed with clear understanding of its capabilities," he said in an interview to Defence Jane's Weekly.

"Its inherent flexibility has enabled nation states to successfully deter their conventional adversaries as well as prosecute irregular outfits."

The air chief said that while it always had to be prepared for the external threat, it now had to reconfigure itself to deal with an internal threat too.

"We are now faced with a definite two-front scenario: external as well as internal."

While claiming that the PAF has proven itself to learn quickly on the job, Butt conceded that it did take them some time to get up to speed with the new challenge.

"While we have always prepared for the traditional and ominous external threat, the new predicament did take us a while to get up to speed with, but ...we did manage to learn on the job quickly and are very efficiently supporting our ground troops in all their operations against militants and terrorists."

PAF seeks to enhance JF-17 capabilities

The Pakistan Air Force (PAF) is seeking to enhance its latest multi-role fighter, trying to enable the JF-17 aircraft to refuel in mid-air, even though it remains open to procuring the more established and technologically advanced F-16 fighter jets.

Chief of Air Staff Air Chief Marshal Tahir Rafiq Butt in an interview to Defence Jane's Weekly said that the PAF was enhancing the JF-17 Thunder, jointly produced by Pakistan and China, and its flight time through the Ilyushin Il-78 air tankers, with the tests set to be completed by the end of the summer.

"The ground tests have been very successful and I am satisfied. The air-to-air (refueling test) will be done successfully by end of this summer."

Pakistan had acquired refueling air tankers Ilyushin II-78 from Ukraine back in 2010. The tankers are now synchronising with medium-to-high tech multi-role aircraft in the PAF fleet, enhancing their capability to stay in the air for longer periods.

"The JF-17 program has been an excellent project to pursue, owing to the hard work put in by our engineers, technicians and test pilots," the Air Chief said, adding "all this would also not have been possible without the cooperation of China."

The JF-17 Thunder programme was jointly pursued by Pakistan and China to give Pakistan a third generation mutli-role aircraft that will replace its ageing fleet of French-made Mirage aircrafts and supplement its powerful, yet limited US built F-16 fighters. The PAF hoped that with an attractive price tag, the JF-17's capability of carrying a variety of weapons, it would in time " become the PAF's mainstay."

Butt said that the PAF plans to induct between 200 and 250 JF-17 aircraft in an airforce which has an estimated strength of 400 fighter aircrafts.

Possibility for more F-16 buys

The PAF has come under pressure recently after traditional and conventional rival India stepped up efforts to upgrade its airforce last year with a major order for fighters made by Rafale.

The most advanced aircraft in the PAF fleet which can match this is the Lockheed Martin made F-16. Most of the F-16 fleet that the PAF had till early 2000s were Block 32 A and B aircraft purchased in the 1980s. It wasn't till the late 2000s that the US Congress eased restrictions for Pakistan to upgrade the older aircrafts and purchases for new Block 52 D and C aircraft.

The Air Chief said that PAF has also been maintaining and operating a sizeable fleet of US F-16 aircraft for a considerable time and its air and ground crews were fairly experienced in handling the weapon system.

"The PAF received its last batch of F-16s in the recent past and even now there are US Congressional clearances available for the provision of additional F-16 aircraft. Owing to requirements, compulsions in the future, there exists a possibility of acquisition of additional F-16 aircraft," he said.

But with the F-16s touted by some experts as an antiquated weapons platform in light of fourth generation aircraft being developed in the US, Russia and China and recent purchases made by India, Butt said that options are still open on the purchase of high tech weapons systems.

Chinese AWACs

Answering a question regarding the induction of Chinese-built ZDK-03 airborne early warning and control (AWACs) aircraft, Butt said it has so far shown that the platform's capabilities work well over sea, plains and mountainous terrain.

Pakistan has four US built P-3C Orion AWACs aircraft. At least two of the aircrafts in Pakistan's fleet were destroyed in the 2011 attack on the Mehran airbase in Karachi. The US agreed to replace the two destroyed aircraft.
COMMENTS (16)
Comments are moderated and generally will be posted if they are on-topic and not abusive.
For more information, please see our Comments FAQ