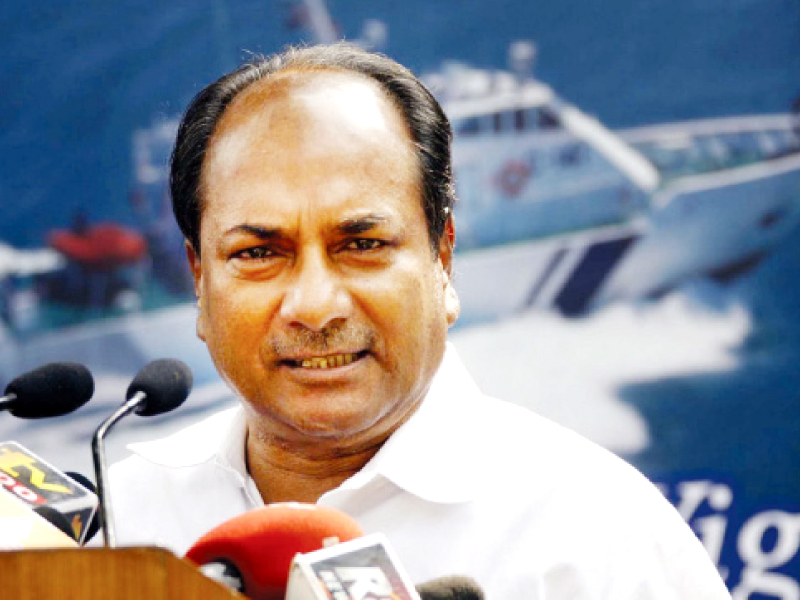 ---
NEW DELHI:



Hours after five Indian soldiers were killed along the Line of Control (LoC) in the disputed Himalayan state of Kashmir allegedly by Pakistani troops, Indian Defence Minister AK Antony said that his country has lodged a strong protest through diplomatic channel.




"Five soldiers were martyred and one was injured when a patrol of the army comprising one non-commissioned officer and five other ranks were ambushed on our side of the LoC in Poonch sector early Tuesday morning," Antony told lawmakers in the Indian parliament.

"The attack happened 400 metres inside Indian territory," he claimed. "The ambush was carried out by approximately 20 heavily-armed terrorists along with persons dressed in Pakistan Army uniforms."

Antony's remarks triggered angry reactions from political parties, which said it amounted to giving an 'escape route' to Pakistan.

However, the defence minister stuck to his version. "My statement is based on confirmed reports received till the time I made the statement ... At this stage we don't want to jump to any conclusion."

Antony said New Delhi strongly condemned the 'unprovoked incident' and summoned Pakistan's deputy high commissioner to lodge a strong protest.

He assured the lawmakers that "our army is fully ready to take all necessary steps to uphold the sanctity of LoC. The morale of our armed forces is very high and they are capable of handling the situation."

The defence minister alleged that the number of infiltration attempts have doubled between January 1 and August 5 in comparison to the corresponding period last year. "There have also been 57 ceasefire violations this year, around 80% more than the same period last year," he claimed.

According to Antony, the Indian army successfully eliminated 19 hardcore terrorists in the months of July and August along the LoC. "The effective counter-infiltration grid on the LoC has ensured that 17 bids were foiled this year," he added.

Opposition lawmakers were quick to cross-question Antony's claims that the attackers were terrorists.

"Why was the government describing the men as terrorists? How did India know they were men dressed in Pakistan Army uniforms and were not from Pakistan Army itself?"

There were also demands that Prime Minister Manmohan Singh should not meet his Pakistani counterpart, Premier Nawaz Sharif, in New York next month on the sidelines of the UN General Assembly as is planned.

Congress party President Sonia Gandhi said India would not be cowed down by the 'deceitful' killing of the soldiers and asked the government to take 'appropriate' measures.

Published in The Express Tribune, August 7th, 2013.