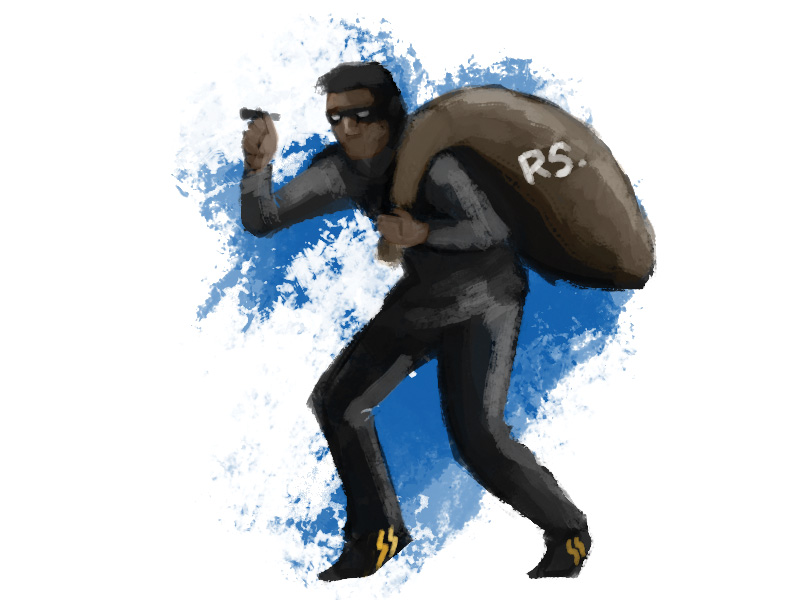 ---
KARACHI:



Less than a week after the last bank heist in the city, another bank was robbed in Karachi in broad daylight, when at least four robbers managed to flee with Rs2.5 million cash from a Micro Finance bank in the Rasheedabad area of Baldia Town, on Tuesday.




This was the 19th bank robbery in the current year and the third during Ramazan. Less than a week ago, a group of robbers looted about Rs2.2 million from a branch of Allied Bank Limited of Mehmoodabad neighbourhood within the limits of Tipu Sultan police station, on August 2.

Police officials said that at least four armed men arrived at the bank on two motorcycles. They first held the security guards deployed at the bank hostage and later took control over the premises by holding the staff members and customers hostage at gunpoint.

The armed men collected around Rs2.5 million from the cash counter and also took the closed-circuit cameras installed at the bank and security guards' weapons away with them while fleeing.

Members of the outlawed Tehreek-e-Taliban Pakistan have their presence in the area where the bank robbery occurred, however, police officials ruled out the possibility of the involvement of terrorist elements. Police officials, while quoting witnesses, said that the dacoits were wearing Shalwar Kameez and appeared to be of different ethnicities.  "It was not terrorists but a professional gang of robbers who was behind the incident," said Baldia division SP Shahjahan Khan, while talking to The Express Tribune. "They took the cameras away with them but they did not take away the DVR system." SP Khan said that police have also obtained the DVR system and initiated investigation to identify the suspects. Meanwhile, a case was registered against unidentified persons and further investigation was underway.

Published in The Express Tribune, August 7th, 2013.