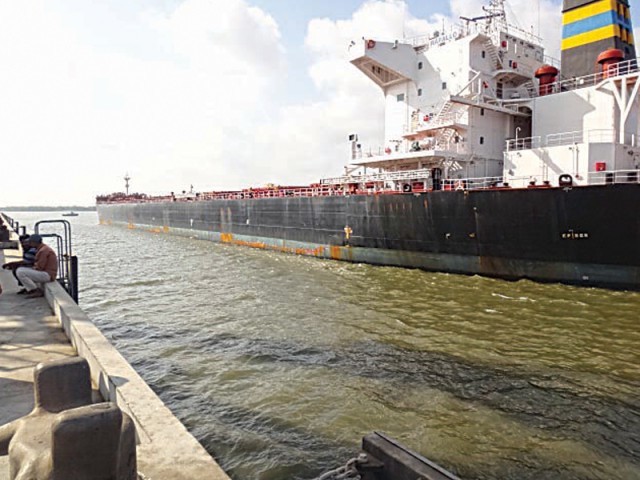 ---
KARACHI:



Transparency International Pakistan (TIP) claims that it has discovered that the Karachi Port Trust (KPT) has purchased two pilot boats at 30 per cent higher than the current market price, allegedly causing a loss of Rs128 million to the national exchequer.




In a letter addressed to the Chairman KPT, TIP has responded to the clarifications made by KPT addressing TIP's report dated June 17, 2013. The latter has made a case that KPT has purchased the two pilot boats in violation of the procurement rules.

Responding to the allegations levelled against it, KPT prepared a comparison of the pilot boats procured by the Port Qasim Authority (PQA) and itself, concluding that the purchase made by KPT was $ 580,685 cheaper than PQA's, as well as, of superior technical specification.

KPT's response which was submitted to the TIP on July 26, read, "M/s. Mustang Marine's [Wales] offered pilot boats for KPT is much more superior having larger main engines and additional items which is value for money."

In the comparison conducted by KPT to redress concerns raised by the transparency body, the total cumulative freight and cost of KPT's pilot boat was $ 2,830,917 compared to PQA's purchased from M/s. Sanmar Denizci'ik Makina Ve Ticaret Ltd – Turkey at $ 2,085,000 in addition to $300,000 for freight charges.




However, in addition to the 78 items of major repairs as spare parts on KPT's boats compared to PQA's 18, there are extra items worth $1,026,602 on the boats purchased by KPT from the Welsh company, thereby putting the net benefit to the port trust at $580,685. This was the justification provided by the KPT at transparency charges hurled at them by the TIP.

TIP rejoinder

M/s. Mustang Marine Consultant's appointment by the KPT may also be against the PPRA rules 2004, given that KPT has been using the same consultancy for the last four years.

According to the TIP, the $300,000 mentioned for freight as a separate charge for the boats purchased by PQA from the Turkish firm is untrue. Secondly, the additional cost of running the extra spare extra is GBP 210,804 annually for two years.

Thirdly, the superior technical specifications, according to the TIP are more bane than boon, given that the larger engine worth GBP 200,000 as per KPT's comparison would cost at least 10 per cent higher fuel and petrol consumption per annum.

Lastly, minor additions like pilot boat ladder and sewerage plant are immaterial for the pilot boats, which are fully equipped as per the specifications of international ports.

Therefore, accordingly to TIP, KPT will be paying Rs 500 million more, during 25 years of its operations.

Published in The Express Tribune, August 6th, 2013.