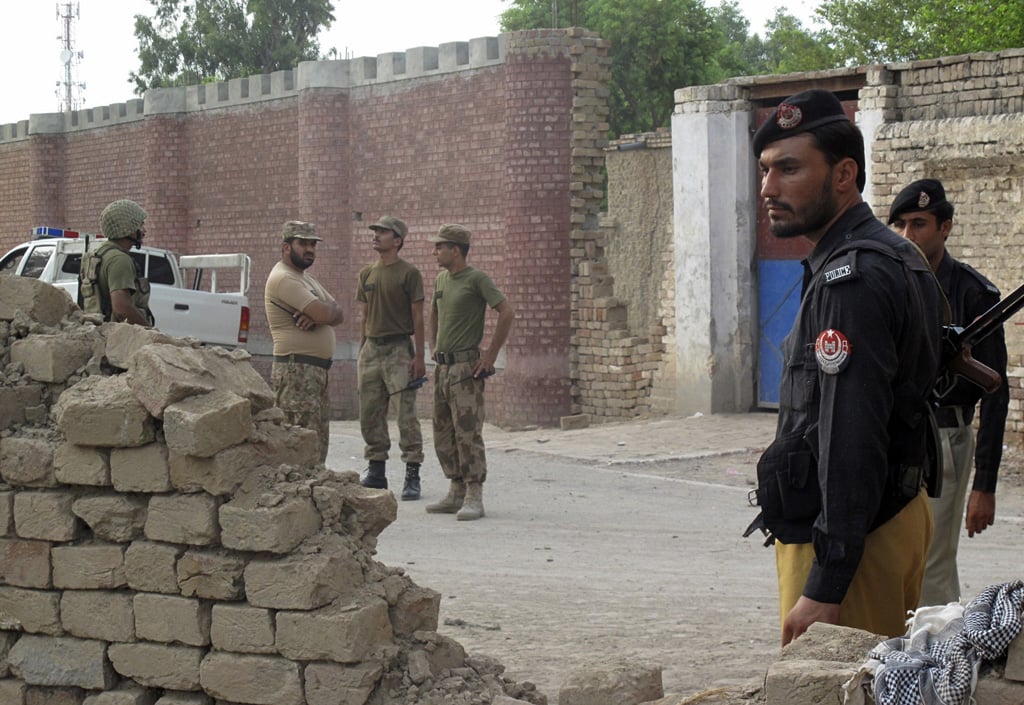 ---
PESHAWAR/ ISLAMABAD:



Pakistan is investigating possible al Qaeda involvement in Dera Ismail Khan jailbreak that freed nearly 250 prisoners, security officials said on Monday.




Sources said that four Lebanese inmates belonging to al Qaeda were also freed during the attack, lending credence to an Interpol suspicion that al Qaeda was involved in the raid – one of nine other prison breaks in eight countries, including Iraq and Libya. The Tehreek-e-Taliban Pakistan earlier claimed responsibility.

Among those freed were Haji Alyas, Abdul Hakim, Walid Akber, Nasir Naseeri, Ahmad Bajauri, Qari Yasar, and Qari Abbas.

"Involvement of al Qaeda is one of the factors that we cannot rule out at the moment," the official said on condition of anonymity.

He said "such attacks are always carried out with involvement of two type of groups, one which plans and the other which executes".

"Jailbreak is something that requires a lot of planning and is not an easy task. Now we have to determine who the planners, facilitators and operators, were" said the official.

The Central Prison in Dera Ismail Khan can hold up to 5,000 inmates and around 300 were being held in connection with attacks on security forces and sectarian killings.




"One thing is very clear: that all those who took part in the jailbreak were highly trained and the pattern of the attack shows they had come for the attack with proper planning," another security official said.

"Apparently the plan was prepared in Waziristan and preliminary information suggests that al Qaeda helped in preparing the jailbreak plan," a senior government official in Peshawar told AFP.

"However, we are working on it and a final report will be prepared soon," the official said.

Meanwhile intelligence sources said that three Tehreek-e-Taliban Pakistan groups were involved in the attack – TTP Mohmand, TPP Punjabi Taliban and Halqa Mehsud group that is associated with Taliban commander Adnan Rashid.

The Punjabi Taliban comprises Lashkar-e-Jhangvi, Sipa-e-Sahaba, Harkatul Mujahideen, and Badar Mansoor's group.

The latter was commanded by Umar Khittab, who is believed to be a part of al Qaeda's operations in Pakistan. Khittab was also present in Dera Ismail Khan, and was also a part of the attack. According to sources, Badar Mansoor, himself is supposed to have been killed by a drone in North Waziristan sometime ago.

Punjabi Taliban commander in custody

A key Punjabi Taliban figure Mujahid Ahmad, who was injured during the DI Khan jailbreak, is currently in custody, police sources said.

Mujahid Khan, a militant commander, was brought to DI Khan District Headquarters and Teaching Hospital along with other injured attackers.

According to sources, Mujahid used a different name while he was in the hospital. He said he had come to DI Khan from Kot Addu for finding work. Doctors, upon suspecting his identity, called the police and he has since been shifted to an unknown location for interrogation.

Mujahid, who is also known under aliases Faqir Baba and Abu Bakr, was part of the jailbreak, and police officials have said that the attack was planned in Toi Khulla Tehsil of Wana subdivision of South Waziristan on July 10. Police officials said that according to Mujahid, 60 attackers were involved in the attack. 

Published in The Express Tribune, August 6th, 2013.
COMMENTS
Comments are moderated and generally will be posted if they are on-topic and not abusive.
For more information, please see our Comments FAQ