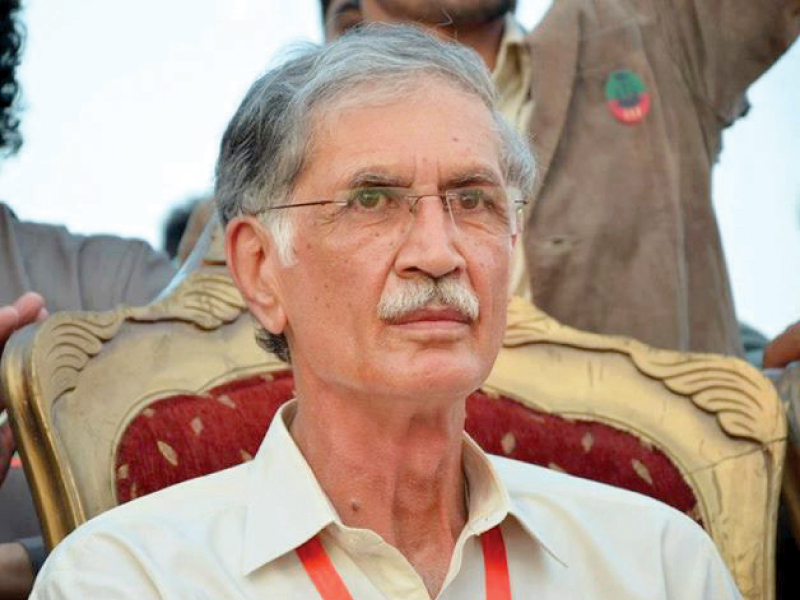 ---
PESHAWAR:



Khyber-Pakhtunkhwa Chief Minister Pervaiz Khattak accused the head of Jamiat Ulema-e-Islam Fazl (JUI-F) on Monday of casting aspersions about Imran Khan in order to keep his party from negotiating with the Taliban.




"By branding Imran a Jewish agent, Maulana Fazlur Rahman is sowing doubts against his character in the minds of the Taliban to restrict them from negotiating with the PTI," Khattak told reporters in Nowshera.

"The Awami National Party (ANP), Pakistan Peoples Party (PPP) and spreading hatred against Pakistan Tehreek-e-Insaf's government in Khyber-Pakhtunkhwa," said Khattak.

He said the three political groupings had joined hands in a vilification campaign against their government in the K-P. The chief minister promised to uncover their "true faces to the nation and people would know about them".

According to him, the PTI chief Imran Khan was striving hard to restore peace and end foreign influence in the region. In contrast, Fazlur Rehman wanted to push the region into turmoil and militancy. "The nation will soon know who is an agent," he added.

Lashing out at the JUI-F chief, Khattak said the Maulana had become a political figure rather than a religious one and could not survive without being part of the government. "However, PTI will never allow him to grab power in the Khyber Pakhtunkhwa," he added.

He maintained that the PTI-led government wanted to implement peace and justice in its true sense.  He said that complying with the party's manifesto, he invited Imran Khan to participate in the K-P's official meetings. "The government has completed just 60 days but the nation will experience a change after August 30," he claimed. "We have started practical work and launched the initial projects and plans."

He blamed the previous governments for destroying the provincial infrastructure and institutions.

This week he hopes to establish a provincial accountability commission. This institution will call to account all government functionaries, including ministers and the C-M. "If anyone is found guilty of any kind of corruption," he said, "someone will have to come forward to put a full stop to this massive corruption."

Talking about by-polls, the CM claimed that his party would win them like the elections in May. "No development projects are under way in the area where elections will be contested," he explained. He said he had held multiple meetings with Imran Khan to appoint an intelligent and hardworking team in the K-P and to create consensus with the bureaucracy for the development of the region.

Published in The Express Tribune, August 6th, 2013.
COMMENTS (1)
Comments are moderated and generally will be posted if they are on-topic and not abusive.
For more information, please see our Comments FAQ