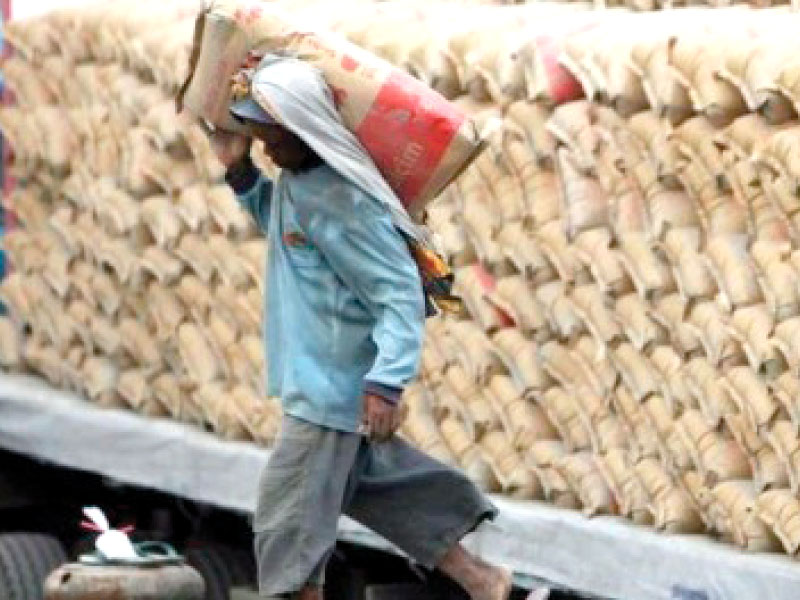 ---
KARACHI:



After a stellar fiscal 2013, Pakistan's cement sector is expected to continue on the trajectory in the ongoing fiscal year as cement demand, favourable pricing and capacity utilisation, besides help from the primary contributor in boosting their margins – three-year low international coal prices.




Despite many challenges, most analysts believe that the sector looks even stronger in the fiscal year 2013-14. It is probably the only sector that has enjoyed all the support of domestic as well as global trends for over a year which has resulted in continuous increase in the sector's profitability.




"The cement sector is expected to grow in the ongoing fiscal year. It could perform better, but not worse," said Muhammad Ali Tabba, chief executive of Lucky Cement, the largest cement manufacturer in Pakistan holding an 18% market share.

With record-low international coal prices hovering below $80 per ton, the cement sector will deliver 12% earnings growth in fiscal 2014 even without assuming further increases in cement prices, Elixir Securities reported in its July 2013 report.

The increase in cement prices has also contributed to the profitability of the sector along with many other factors. For instance, average price of a 50-kilogramme (kg) cement bag in June 2010 was Rs300, which has now jumped to Rs500 in June 2013. According to market talks, leading cement players are eyeing Rs600 per bag price in fiscal year 2014.

Replying to a question on increase in cement prices, Tabba said, they will depend upon the utility rates. "What I am sure is that cement prices will go up if the government increases the prices of gas and electricity," he said.

Both domestic and global factors are positive for the cement sector so it will continue to grow in the near future unless any major change hits the industry, Sarfaraz Abbasi, analyst at Summit Capital said, adding that factors like low coal prices and hike in cement prices are all contributing to the growth of the sector.

One of the biggest factors upon which industry officials and analysts are banking on is the better allocation of funds (Rs540 billion) for the public sector development programme (PSDP) in budget 2013-14 that is expected to increase local cement consumption.

Improvements in the market scenario improved the fundamentals of not only big, but also mid-size cement producers. "Not only big, but smaller cement companies have also improved their balance sheets in fiscal 2013 by reducing or dumping their debts once they become profitable," said Abbasi.

Local cement demand remained strong during fiscal 2013 and sales settled at 25.1 million tons at the end of year, up 4.6% year-on-year despite the fact elections were held last fiscal, fuelling a lot of uncertainty for corporate Pakistan and the country in general. Cement exports, however, dropped 2.3% to eight million tons in the fiscal year 2012-13.

Tabba believes that the industry will grow on the back of local demand, outperforming exports in fiscal 2014 as, industry believes, exports may remain flat.

Meanwhile, according to brokerage houses, capacity utilisation of the cement sector also improved to over 75% from 70% or below in the previous year. It is difficult to determine exactly what current industry utilisation is, but it must be around 78%, said Tabba.

Sherman Securities on Thursday said that the recent government decision to increase electricity prices might increase Rs4-5 on a 50kg cement bag. Although increase in electricity rates is negative for the cement sector, it can easily absorb this small shock owing to better cement prices in the market.

Sector's performance at KSE

Cement sector remained investor favourite in the last 12 months. It was the best performing sector, second only to textiles, with an astoundingly high return of 74% in fiscal 2013. One should keep in mind that this performance is far better than 52% return posted by the KSE-100 index in previous fiscal.

Leading cement companies posted exceptional returns in the fiscal year 2012-13. For instance, the stock price of Lucky Cement grew 80.87% in the period. Similarly, the stock price of DG Khan Cement, another leading cement company, showed exceptional increase of 111%.

Speaking on the (stellar) performance of the sector at bourses, Tabba said the profitability of companies especially mid-size cement producers will increase in the fiscal year 2013-14.

Published in The Express Tribune, August 5th, 2013.

Like Business on Facebook, follow @TribuneBiz on Twitter to stay informed and join in the conversation.
COMMENTS
Comments are moderated and generally will be posted if they are on-topic and not abusive.
For more information, please see our Comments FAQ