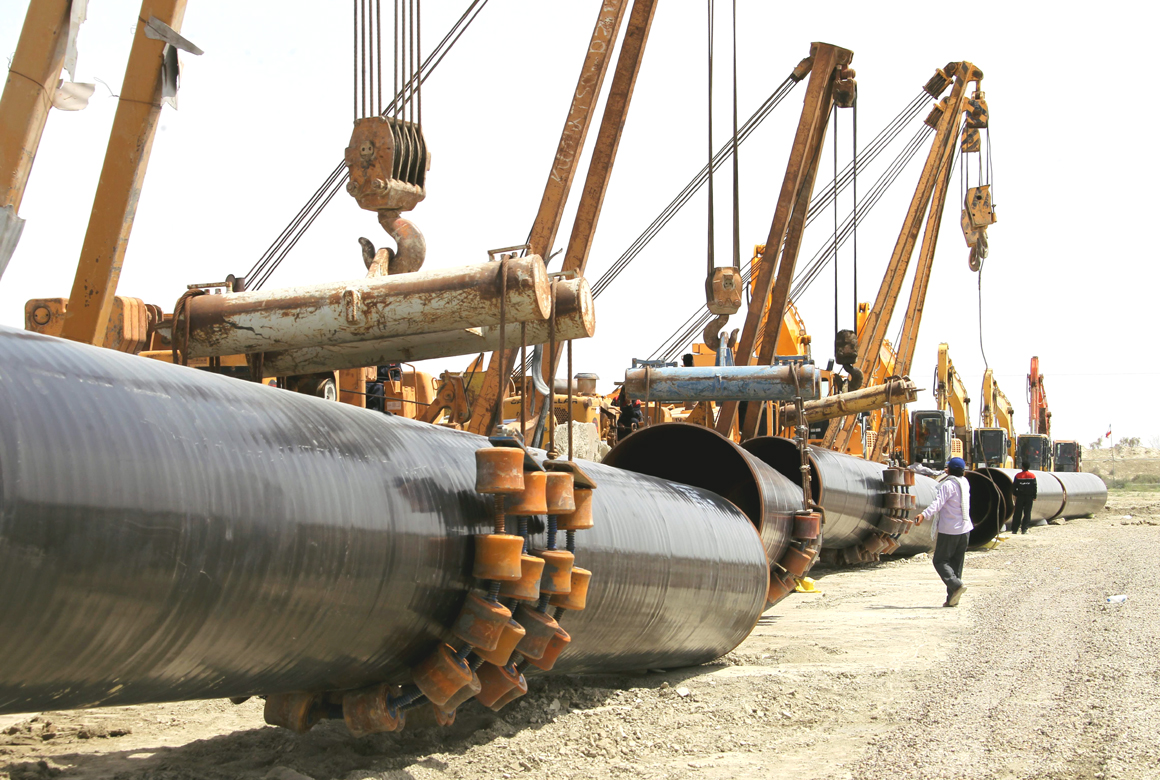 ---
ISLAMABAD:



As the government is aware that US sanctions may hamper financing for the Iran-Pakistan gas pipeline project, it has decided to place a request before the new Iranian government for completely financing the vital energy project.




Iran had committed to the previous PPP-led government a loan of $500 million for laying the pipeline in Pakistan, which would cost more than $1 billion. The two governments also agreed to award construction contract to Iranian firm Tadbir Energy. However, the contract could not be signed in the absence of sovereign guarantees by Pakistan.

Speaking to the media here on Friday, Petroleum Minister Shahid Khaqan Abbasi stressed that the government would continue work on the IP gas pipeline and "we will discuss the project with the new Iranian cabinet for seeking the entire financing."

Iran was facing sanctions and the Foreign Office had been asked to assess the impact of US curbs on the project, he said. Turkey and Armenia are already getting supplies from Iran.




LNG terminal

Talking about liquefied natural gas (LNG) import from Qatar, Abbasi said Qatari government had asked Pakistan to build an LNG terminal before going for a gas supply deal. So far, no agreement had been signed for LNG import from Qatar, he clarified.

"I visited Qatar along with Punjab chief minister, but the Qatari energy minister asked us to give a commitment that LNG terminal will be built first," he said.

Many countries have set up terminals first and then signed the gas supply deal. "We will follow this model," Abbasi said.

The consultant for LNG import has proposed that Pakistan bring the Asian Development Bank (ADB) on board for guarantees in an effort to avoid providing government guarantees.

"We want LNG suppliers to accept guarantees provided by gas companies rather than government guarantees," he said and declared that Pakistan would not import LNG from Qatar if the price was not feasible.

He made it clear that the government would not explore the option of striking a state-to-state deal for LNG import from Qatar and said Doha had varying gas price agreements with different countries.

Earlier, it provided LNG at $2 to $3 per million British thermal units (mmbtu) to Japan, which has now signed a deal at $16 to $17 per mmbtu. Similarly, India had struck an initial deal at $3 per mmbtu, but now it reached an agreement at $19 per mmbtu.

India has also expressed interest in exporting LNG to Pakistan but has demanded a higher price, which Abbasi said was not acceptable. "We have asked India to revise the price."

According to the minister, bids will be invited for import of 200 million cubic feet per day of LNG on fast track through a terminal along with a jetty. In this programme, five parties are interested who claim that they will be able to bring LNG in six to eight months.

He expected the government to sign a 10-year contract with the successful bidder and tolling charges would be paid to the terminal owner. "LNG imports will start in mid-October under this project," he expressed the hope.

In the second option, Sui Southern Gas Company (SSGC) had invited bids for starting work on a retrofit project for LNG import. In this programme, SSGC will convert Progas LPG terminal into an LNG handing facility. Technical bids had been opened, but financial bids were not.

"We have asked SSGC board of directors to examine the financial bids. The government will push ahead with this project if it is technically and financially feasible," he said.

4Gas Asia has qualified for it and, according to Abbasi, PPRA rules also allowed the award of contract to a single supplier.

Apart from this, two offshore projects of 500 mmcfd each were under consideration, which could be at Port Bin Qasim or Gwadar Port. "We can save $500 to $700 million per annum if we change fuel (from oil to gas)," he added.

Published in The Express Tribune, August 3rd, 2013.

Like Business on Facebook, follow @TribuneBiz on Twitter to stay informed and join in the conversation.
COMMENTS (32)
Comments are moderated and generally will be posted if they are on-topic and not abusive.
For more information, please see our Comments FAQ