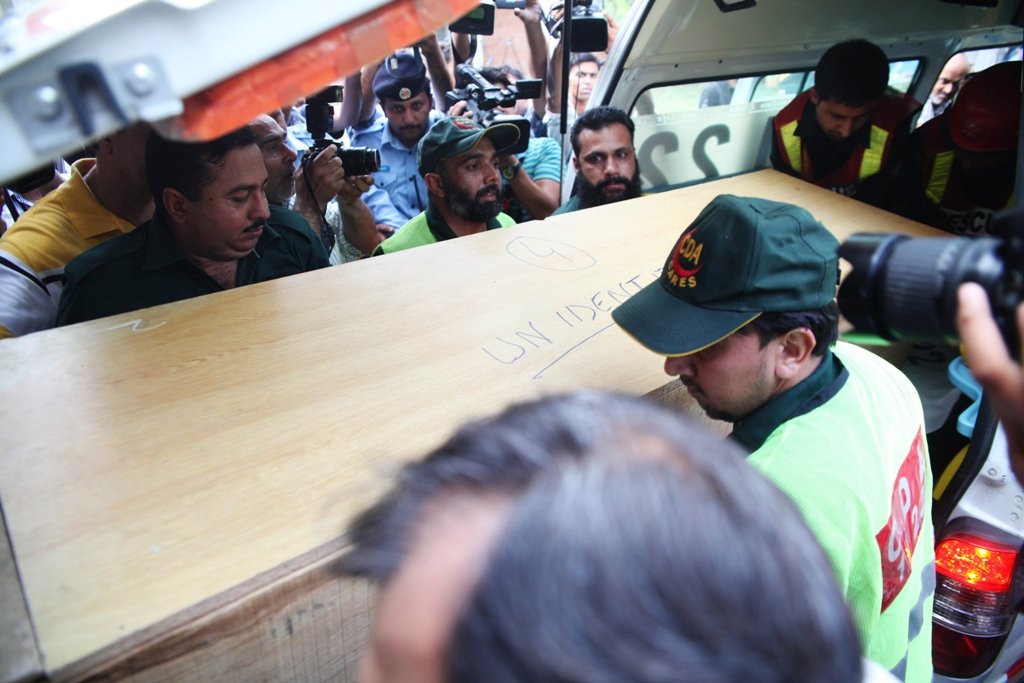 ---
ISLAMABAD: Pakistan on Monday suspended expeditions on its second-highest peak, evacuating climbers from Nanga Parbat after 10 foreign tourists were shot dead by gunmen at a base camp.

Well-armed and well-prepared attackers dressed in police uniforms stormed the camp at the foot of Nanga Parbat late Saturday, shooting dead the climbers and a Pakistani guide at point-blank range, officials said.

The victims have been identified as an American with dual Chinese citizenship, three Ukrainians, two Slovakians, two others from China, a Lithuanian and a climber from Nepal.

It was an unprecedented attack on mountaineers drawn to the natural beauty and intrepid climbing of northern Pakistan, which until Saturday's shooting was considered immune from Taliban and al Qaeda-linked violence plaguing other parts of the country.

"We are really shocked, traumatised and full of anger. Pakistan is known among the mountaineering community. It was a brutal massacre. These people were killed for no reason," said Manzoor Hussain, president of the Alpine Club of Pakistan.

Around 40 remaining climbers on Nanga Parbat have been evacuated to the northern city of Gilgit with treks on the peak now unsafe, he told AFP.

"Local authorities have evacuated them. They have all been informed of this incident," Hussain said.

"We are reviewing the overall security situation. The fallout apparently will be serious."

Hussain said there would be no further expeditions on Nanga Parbat this summer and that requests for winter climbs would be subject to a security review.

"This season is over for them," Hussain said.

It is a major blow to foreign trekking expeditions, which provide the last vestige of international tourism in a country where militants have killed thousands of people in recent years.

The Tehreek-i-Taliban Pakistan movement claimed responsibility for the shootings, saying they had set up a new faction, Junoodul Hifsa, to kill foreigners to avenge US drone strikes on Taliban and al Qaeda operatives.

Hussain said the attack was well-planned, carried out by well-equipped and well-trained people familiar with the harsh terrain, with suspected local involvement.

"It took place at 4,200 metres. It has to be the work of well-trained people. It takes two to three days to reach (the camp). The body needs to acclimatise for climbing up. How they went undetected is a big question."

Expeditions on other peaks in Pakistan higher than 8,000 metres, including K2 the world's second highest mountain, would continue as the army was in those areas, he said.

The bodies of the dead tourists were on Sunday flown to Islamabad from where they will be repatriated.

Police said Monday that a massive search operation is under way to track down the suspects.

"The military, police, law enforcement agencies are all involved. The terrain is tough. Four helicopters are also combing the suspected areas," police official Mohammed Naveed told AFP from the district of Diamer.

"This is the most peaceful area in Pakistan. Such an incident never happened before. We're also interrogating local people. The operation will continue until we achieve the objective," he said.
COMMENTS (21)
Comments are moderated and generally will be posted if they are on-topic and not abusive.
For more information, please see our Comments FAQ